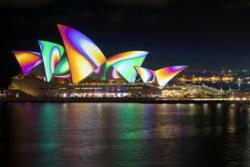 Sydney, New South Wales (PRWEB) May 25, 2012
Sydney Opera House, in partnership with Google, will stream selected performances on a dedicated YouTube channel during Vivid LIVE, its annual ten day music event within Vivid Sydney (May 25 – June 11), the city's annual festival of light, music and ideas.
Audiences across the globe will be able to see The Temper Trap showcase their new album in the Concert Hall, witness Imogen Heap perform an intimate recital with a spectacular Sydney harbour backdrop, experience Amon Tobin's LIVE Beyond 3D and watch the iconic sails of Sydney Opera House be transformed with digital mapping technology by multi-award winning German design collective URBANSCREEN.
The live stream series will premiere a custom camera application called FRONTROW, which will allow the audience to use pan and zoom features to change their view and take photos during the live stream, apply lens filters and immediately share with their friends through Twitter, Facebook and Google+.
Footage of The Temper Trap and Lighting the Sails by URBANSCREEN will also be available in full on the Vivid LIVE YouTube channel, six hours after the live event.
Victoria Doidge, Sydney Opera House Director Marketing and Communications says, "Sydney Opera House is committed to taking the content from its stages to people wherever they are. The steaming of our Vivid LIVE festival is part of our broader digital content strategy. We are excited to partner with Google to create a truly innovative virtual experience of these concerts. We imagine that the ability for viewers to take pictures throughout the concert will really add to their sense of 'being there' as it happens."
Google Australia Head of Marketing, Lucinda Barlow says, "We're excited to partner with Sydney Opera House to debut Frontrow on YouTube and bring a new dimension of Vivid LIVE to the world. Audiences can control the camera angle of their own live experience and for the first time take photos remotely of the action and share them with their friends. Applications like Frontrow move the web forward and make live experiences richer."
Vivid LIVE is Sydney Opera House's mid-winter music Festival, programmed by Vivid LIVE Festival Director and Sydney Opera House Head of Contemporary Music, Fergus Linehan. An artist-driven music festival, Vivid LIVE is defined by special commissions, one-off events and Australian premieres.
sydneyoperahouse.com/vividLIVE
Vivid LIVE streaming on YouTube:
Friday 25 May - Lighting the Sails by URBANSCREEN 6pm – 10pm AEST
As the centrepiece to Vivid Sydney, each year a Vivid LIVE artist is invited to transform the sails of Sydney Opera House with digital mapping technology. In 2012, Vivid LIVE has commissioned multi-award winning German design collective, URBANSCREEN to create a new artwork that will explore both the iconic sculptural form of Sydney Opera House, as well as its place as a home for music, dance and drama.
Tuesday 29 May – Imogen Heap – 6pm – 7pm AEST
As part of her visit for the 2012 APRA Song Summit, Imogen Heap will perform an intimate recital for Vivid LIVE in the northern foyer of Sydney Opera House Concert Hall. Set to a spectacular harbour backdrop at dusk, Heap will perform a series of stripped back renditions of songs from her globetrotting, in-progress album - 6 songs in 60 minutes.
Thursday 31 May – The Temper Trap – 9.50pm – 11pm AEST
After a near-two-year absence from Sydney stages, The Temper Trap will perform for Vivid LIVE in the Concert Hall, Sydney Opera House in support of their highly anticipated self-titled second album. Having built a significant following over the past four years across Europe, UK and North America, the band's long absence resulted in feverish excitement and expectation around the new album. The Temper Trap is the follow up to 2009's critically-acclaimed platinum-selling debut Conditions and was recorded at the famed Sound Factory in Los Angeles, with producer Tony Hoffer, ( Beck, M83, Phoenix). The Temper Trap is out now through Liberation.
Saturday 2 June – Amon Tobin Live Beyond 3D ISAM 9pm AEST
Following sold out tours across Europe and North America, Amon Tobin's audiovisual spectacle ISAM Live comes to Sydney Opera House - a landmark development in concert presentation. Taking projection mapping, electronic performance and technological syncopation into more immersive territory, Amon Tobin's reputation as an innovative artist has long been recognised by critics and peers alike; with ISAM Live, he has finally captured the imagination of the broader public worldwide.
Vivid LIVE at Sydney Opera House (May 25 – June 3) is part of Vivid Sydney (May 25 – June 11), the city's annual festival of light, music and ideas. Now in its fourth year, Vivid Sydney has become Australia's major festival in winter and is one of five signature events on the NSW Events Calendar developed by Destination NSW on behalf of the NSW Government.
youtube.com/SOHfestival
sydneyoperahouse.com/vividLIVE
Facebook.com/vividLIVEsydneyoperahouse
@VividLIVE #Vivid LIVE