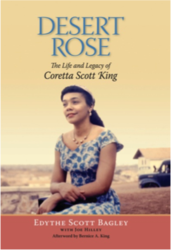 Tuscaloosa, AL (PRWEB) May 23, 2012
The University of Alabama Press is proud to announce that Bernice A. King will sign copies of her mother's memoir, Desert Rose: The Life and Legacy of Coretta Scott King on Saturday, May 26, 2012, from 11:00 a.m. to 1:00 p.m. at the Martin Luther King Jr. National Memorial. The tour will continue that night as King signs at Busboys and Poets from 5:30 to 7:00 p.m.
The MLK Jr. National Memorial is located at 1964 Independence Avenue Southwest, Washington, D.C. The Busboys and Poets signing will be held at the Shirlington location, 4251 South Campbell Avenue, Arlington, Virginia; phone: 703-379-9756.
"When I first visited the monument of my father, I was both proud and humbled…proud to be the daughter of a man who impacted the world globally and humbled that our nation would bestow such an honor upon him. The book signing of my mother's memoir Desert Rose: The Life and Legacy of Coretta Scott King at the memorial is an opportunity befitting the tremendous love, dedication and impact she had not only on my father and his life's work, but also the world at large," said Bernice A. King.
Desert Rose was written by Coretta's sister Edythe Scott Bagley, who partnered with award-winning author Joe Hilley during the editing stages to ensure the story was complete, comprehensive, and compelling. Although Mrs. Bagley passed away in June of 2011, the dream of Mrs. King to have her story published is being carried on through her daughter, Bernice A. King, and Edythe's son, Arturo Bagley. Desert Rose details Coretta's upbringing in a family of proud, land-owning African Americans from Marion, Alabama, with a profound devotion to the ideals of social equality and the values of education, as well as her later role as her husband's most trusted confidant and advisor.
As Coretta's older sister, Edythe shared in almost all of Coretta's many trials and tribulations. Desert Rose charts Coretta's hesitance about her romance with Martin Luther King and the prospect of having to sacrifice her dream of a career in music to become a minister's wife. Ultimately, Coretta chose to utilize her artistic gifts and singing voice for the Movement through the development and performance of Freedom Concerts. This book also charts Coretta's own commitment and dedication, in the years that followed King's death, to the causes of international civil rights, the antiapartheid movement, and the establishment of the King Center in Atlanta and the national King Holiday. Coretta's devotion to activism, motherhood, and the movement led by her husband, and her courageous assumption of the legacy left in the wake of King's untimely assassination, are wonderfully detailed in this intimate biography.
The University of Alabama Press, celebrating more than 65 years of fine publishing, is one of the largest publishers in the South. It publishes between 70 and 75 books a year in southern history, archaeology, military history, Judaic studies, literary criticism, communication, sports, Civil Rights, religion, and regional topics.
Desert Rose: The Life and Legacy of Coretta Scott King
By Edythe Scott Bagley with Joe Hilley
6 x 9 inches / 360 pages / 48 b&w illustrations
ISBN: 978-0-8173-1765-2 / $34.95 cloth
ISBN: 978-0-8173-8612-2 / $27.95 ebook
Early Praise for Desert Rose:
"Desert Rose is a must-read for anyone interested in learning about the first family of the Civil Rights Movement. This book offers an insightful look at the life of Coretta Scott King, and by default the life of Dr. King, from a unique and rare perspective. It provides an excellent ground-level view of African American life in Perry County and in Alabama's Black Belt."
—Hasan Kwame Jeffries, author of Bloody Lowndes: Civil Rights and Black Power in Alabama's Black Belt
"Coretta Scott King, like so many women during the Civil Rights Movement, has never gotten her just due other than being Mrs. Rev. Dr. Martin Luther King Jr. But her work and leadership was just as instrumental in advancing the cause of Black folk. Desert Rose puts the light on Coretta and her family, and allows us to revel in the courageous work of a remarkable family, and definitely a strong and fearless woman like Coretta Scott King."
—Roland S. Martin, nationally syndicated columnist and author of Speak, Brother! A Black Man's View of America
"Desert Rose provides a useful window into the lives of Edythe Scott Bagley and her sister, Coretta Scott King. Illuminating African American middle-class life in Black Belt Alabama at the turn of twentieth century, the author takes us behind the scenes where readers can see the toll civil rights activism took on the King family, both immediate and extended."
—Andrew Manis, author of A Fire You Can't Put Out: The Civil Rights Life of Birmingham's Reverend Fred Shuttlesworth
"It is difficult to think of a person more qualified to write a biography of Coretta Scott King than her older sister, Edythe S. Bagley. An accomplished scholar and writer, Bagley creates in Desert Rose: The Life and Legacy of Coretta Scott King, a portrait not just of her younger sister who grew up to play a large role in the nation's history, but of the family that produced and nurtured Coretta and sent her proudly out into the world to assume her rightful place. As scholars and historians begin to do the necessary work on the life of Mrs. King and her unique individual contributions to progressive movements in this country--both before and after the death of her husband, Dr. Martin Luther King Jr.--they will find in Desert Rose a loving portrait, filled with anecdotes, family stories, historical footnotes, and memories only a sister could provide. For those who want a closer look at an extraordinary woman, Desert Rose: The Life and Legacy of Coretta Scott King will provide that intimate glance with great affection, deep understanding, and amazing grace."
—Pearl Cleage, author of Till You Hear From Me and the play A Song for Coretta