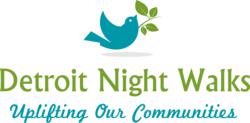 "Too many are living in fear. Too many vulnerable are being preyed upon. Everyday counts, we have a sense of urgency around Detroit Night Walks," said Bishop Edgar L. Vann
Detroit, MI (PRWEB) May 23, 2012
In just two months, more than 30 clergy and their congregations have answered the call to work with law enforcement on an initiative called "Detroit Night Walks." "Today's press conference is a call to action for more to join us. We have churches in all corners of Detroit, but we want to fill in as many neighborhoods as possible with a peaceful, but powerful presence," said Detroit Police Commissioner Pastor James Warfield of Mt. Vernon Missionary Baptist Church. "We are not evangelizing, yet we are sending a spiritual message and hopefully opening up the lines of communication in the neighborhood," said Bishop Edgar L. Vann II of Second Ebenezer Church.
The two joined forces to launch "Detroit Night Walks," as a strategy to help build community engagement and community trust. "Organizing to help prevent crime and stabilize our neighborhoods," are the words of Minister James Booker, an organizer of the newly formed YOUTH VOICE Clergy Team of the Harriet Tubman Center. The reasons are obvious – according to the F.B.I., Detroit has 468 crimes per square mile and the national median is 39 crimes per square mile. "Too many are living in fear. Too many vulnerable are being preyed upon. Everyday counts, we have a sense of urgency around Detroit Night Walks," said Vann.
Detroit Police Chief Ralph Godbee understands the community plays an integral role in crime prevention, and has consistently asked them to be the eyes and ears in their neighborhoods. "Night Walks takes this concept one step further and adds the presence of clergy with lay people. Clergy have the ability to broker trust in the community and their presence will be welcomed," he said. "Night Walks," is a component of the CEASE FIRE gun violence prevention strategy endorsed by the U.S. Department of Justice. "We are implementing CEASE FIRE in Detroit, which includes prevention, intervention and enforcement. We are most grateful to the clergy who are organizing Detroit Night Walks," said U.S. Attorney Barbara McQuade. "We need the community to work with law enforcement and this program exemplifies the prevention side of CEASE FIRE," she said.
YOUTH VOICE Chief of Staff of the Executive Board, Quentin McKinnon, a junior at Cody Detroit Institute of Technology, is especially happy about Detroit Night Walks launching. "We really need CEASE FIRE now. People are getting jumped, robbed and beaten at my school's bus stop. It is one thing to talk about crime prevention, but we really need to do something now," he said.
Two trainings for "Night Walks," will take place in May and June and a youth-led prayer rally will take place at five churches on May 26 (see information below).
Clergy and laypeople are invited to the following programs to launch Detroit Night Walks:
May 25: Phase I of the Detroit Night Walks Training called "Violence as a Disease," presented by Pastor Michael McBride, Director of PICO CEASEFIRE/Lifelines in Oakland, California. Presented by YOUTH VOICE & THE YOUTH VOICE CLERGY TEAM.
Friday, May 25
6pm-7:30pm
Second Ebenezer Church
14601 Dequindre
Followed by the first "Night Walk" at Solomon's Temple @ 7:30pm
2341 E. 7 Mile Road
Saturday, May 26: 313 Youth Prayer Rally at five Detroit Churches at 2pm, with prayer at exactly 3:13pm. More than 2,000 youth are anticipated across the five churches.
1. Second Ebenezer Church, Bishop Edgar L. Vann II, Senior Pastor (Eastern Region) –
2. Lighthouse Community Church, Rev. Lemar A. Tabb (Northwest region)
15820 Wyoming Detroit, MI 48238
3. Third New Hope (West Campus), Dr. E. L. Branch, Senior Pastor (West region)
5439 West Warren Detroit, MI 48210
4. Citadel of Faith Covenant Church, Rev. Harvey Carey, Senior Pastor (Midtown region)
1419 W. Warren Ave., Detroit, MI 48208
5. Grace In Action, John Cummings, Senior Pastor (Southwest region)
7725 West Vernor Detroit, MI 48209
June 15: Phase II of Training for Detroit Night Walks – Location and Times TBD.
For information on the YOUTH VOICE CLERGY TEAM and trainings, contact Minister James Booker at 313.401.9661 or email james.booker (at) tubmanorganizing (dot) org.