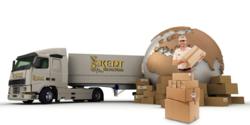 Success and industry leadership, however, come with certain responsibilities.
(PRWEB) May 25, 2012
Announcing Offset Carbon Emissions – A Milestone for the Australian Removals Industry
Kent steps up its efforts in caring for the environment. In its quest to operate in an environmentally friendly fashion, it teamed up with Greenfleet to reduce carbon emissions. Greenfleet is the first non-profit forestry offset organisation accredited as an Approved Abatement Provider under the Australian Federal Government's Greenhouse Friendly Initiative.
Under the Kent Native Forests Regeneration Program, Kent has promised to plant one tree for every completed CSI Online Survey. After availing of Kent's moving services, clients will receive an e-mail containing a Removal Plan Number and PIN. The e-mail shall link the clients to a quick online survey, which will take less than three minutes to accomplish. Kent will proceed to plant one native tree for each completed survey.
Indeed, Kent should be the preferred choice of persons who are looking for a leading eco-friendly removalist.
Kent International Movers is a leading Australian removalist with storage facilities located in major Australian cities like Melbourne, Sydney, Perth, Brisbane, Adelaide, Canberra, Darwin and Townsville. It boasts of providing highly-personalised and complete removal, storage and relocation services to individuals and businesses alike. Kent provides world-class services worldwide.
Success and industry leadership, however, come with certain responsibilities. Kent is a socially-responsible removalist that does not merely focus on its bottom line. One proof of this is how it does its part in caring for the environment.
Environmental Policy – ISO 14001:2004
In all levels of its operations, Kent Moving & Storage conducts its activities in compliance with all legal and other requirements. In line with this, Kent commits to:

Provide a level of environmental awareness to its employees and the community as a whole;
Establish measurable objectives and targets and review them on a quarterly basis in accordance with the annual Environmental Management Plan;
Come up with measures for prevention of pollution; and
Continuously improve its quest to comply with applicable legal and other relevant requirements.
Kent makes sure that this policy is properly disseminated to its staff through electronic means, management system manuals and announcements posted on common area notice boards. The public is also informed of this policy through the company's website.
About Kent
Kent is the largest privately-owned moving company in Australia which provides mobility, relocation and consulting services. It was established in 1946 by the Kent family. Kent is known for providing professional, reliable and expert service to its clients. It delivers personal service, ensuring the highest level of customer satisfaction. Kent has established its presence in major Australian cities like Melbourne, Sydney, Perth, Brisbane, Adelaide, Canberra, Darwin and Townsville. Its presence is also felt worldwide through its network of branches, agencies, industry partners and affiliates.
Kent the Overseas International Moving Company