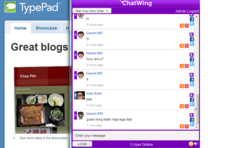 New York, NY (PRWEB) May 23, 2012
TypePad, one of the best blogging sites today, is continuously generating a lot of users because of the different recommendations and reviews created for it. Some people have even commented that TypePad is a great blog site dedicated for SEO purposes. Chatwing has lately introduced a globally competitive chat box that can truly help TypePad users improve their blogging experience. This chat application is loaded with unique and timely features that have appealed to a lot of people in the blogging industry.
TypePad allows its users to reach a larger base of audience by utilizing different factors such as content management, social media, and proper blogging techniques. Most of its offers are under priced plans, but users can still try it out freely. Chatwing, on the other hand, is a buffer of communication. According to some bloggers, Chatwing takes widget communication to a whole new level. Once it is installed in a blog or website, Chatwing's potential is greatly maximized.
One of Chatwing's strong features is social media integration. Now, Chatwing's chat widget users can log in with their social networking accounts and connect to people in a greater pace. Chatwing integrates this option without affecting its overall speed. Lots of chatrooms have done this, but their connection speed has suffered to some degree.
TypePad users have also seen improvements to their blogs after using Chatwing. Some of them have observed that the web chat tool increased the rate of the blogs' visibility by up to eighty percent. Chatwing has the potential to turn the blog into an active chatting lounge that attracts a lot of visitors. This is particularly useful for bloggers who are just making a break in the industry. Also, the blog owners will now have a simple opportunity to chat live with their visitors—an online deed that is helpful for any marketing process.
About Chatwing.com
Chatwing.com has developed live chat software for websites and blogs. It caters to different online communities due to its high rate of connectivity. Everyone can create a customizable live chatbox in 1 minute or less. Users have the ability to customize the size, color, and fonts of the chat product. The ability to chat via social media accounts such as Facebook and Twitter enable Chatwing to offer a personal and unique real-time experience to all sites. Chatwing is 100% free and very easy to use.