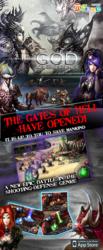 (PRWEB) May 23, 2012
G.O.D. (God of Defense) from MGame Corp. has received copious praise from fans since its initial release earlier this year; now, G.O.D. is unveiling its first major update. Current fans should be pleased with the substantial improvements, and new fans will enjoy an even more engaging, addictive tower defense experience.
G.O.D. (God of Defense) places players in an apocalyptic fantasy, one in which the gates of hell have been breached and a demonic army marches inexorably toward the last remaining human fortresses. Defending their land and their very lives against this unholy menace is more than can be expected of any mere mortals. Players take on the role of a vengeful, protective warrior god who strikes down the enemies as they approach using a variety of divine elemental attacks. Ice, fire, and plasma form the backbone of this deified defense. As players progress through the game's challenging stages, they upgrade and improve upon their "god of defense" and refine their strategies to confound the opposition.
The newly updated version of the game (1.0.2) integrates a number of changes, improvements, and additions. Pacing in the early stages of the game has been adjusted to for consistency and to facilitate a pick-up-and-play level of difficulty for beginners, and the game's survival mode is now unlocked after stage 8. The auto-attack function can now be activated by holding down the attack button continuously, while screen scrolling can now be accomplished via touchscreen flicking. Icons have been included to announce the appearance of monsters and the receipt of bonus items. Additionally, bonus items and "blood"(the game's currency) will now be obtainable through the NPC "Golden Goblin," and a new guide has been included to aid users in the uses of upgrade items and how to obtain them.
G.O.D. (God of Defense) is available now in the iTunes App Store, and is free to download. With the arrival of this anticipated update, this already great game has gotten even better.
Features:

Develop a personal God of Defence by obtaining and upgrading three special elemental skills: fire, plasma, and ice
Master special attacks to devastate the enemy
Prove the player's deadly skills against 26 types of enemy, each with their own special attributes
Become the ultimate God of Defence with 12 different achievements
Track success by comparing wins to other players around the world
iTunes App Store: http://itunes.apple.com/us/app/g.o.d-god-of-defence/id507390034?mt=8
About the Developer:
Mgame Corp. is a Korea-based company engaged in the development and provision of online game products through portal site, http://www.mgame.com. MGame mainly provides massively multiplayer online role-playing games (MMORPGs) and others. Mgame's US branch provides global online game service provider, Mgame, services online games to the user over 13 countries though 16 other partners.