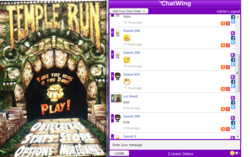 Boston, MA (PRWEB) May 23, 2012
One of the highest games in iPhone and iPad today is an adrenaline-pumping 3D platformer known as Temple Run. This is based on numerous mobile gamer reviews that can be found online. Temple Run is also a highly competitive game that can be enjoyed by local groups of friends. Because of its widespread fame, Temple Run gamers have been hanging out in a web chat box known as Chatwing. This application has been useful to a lot of online communities, even to mobile gaming.
Chatwing is built in the sole premise of unique and uninterrupted website chat. This is to ensure that people are getting the the information they really need properly. Also, Chatwing chat widget utilizes the power of social media. Through this, Chatwing users can rely on Facebook and Twitter when it comes to communication. Chatwing is also an elite when it comes to versatility—another reason why a lot of people in different online communities have been using it. Under Chatwing, there are hundreds and thousands of topics to choose from.
Ease of access and installation is also the bread and butter of Chatwing. It has been proven that a lot of people hate complicated commands, as well as third-party download system. Chatwing eliminates this and focuses on the chatting aspect, rendering the installation time to only few seconds. This is a simple yet powerful edge that can make Chatwing stand above other chatrooms in the competitive market.
Temple Run players have gathered in the Chatwing shout box to talk about different game-related topics such as swerving easily in corners, playing with friends, collecting treasure coins efficiently, and achieving a neat high score. Since Temple Run is a really fast and challenging game, a lot of players were hanging out in Chatwing in order to find related tips.
About Chatwing.com
Chatwing.com has developed live chat software for websites and blogs. It caters to different online communities due to its high rate of connectivity. Everyone can create a customizable live chat feature in 1 minute or less. Users have the ability to customize the size, color, and fonts of the chat product. The ability to chat via social media accounts such as Facebook and Twitter enable Chatwing to offer a personal and unique real-time web chat experience to all sites visitors. Chatwing is 100% free and very easy to use.