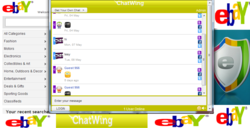 Miami, FL (PRWEB) May 23, 2012
It is evident that there are a lot of people who rely on eBay when it comes to making a serious bulk of cash. This is based on the number of registered users in eBay, and this number is growing by the minute. A lot of items are open up for bidding in eBay—items like collectibles, bargains, accessories, toys, materials, and many more. The large influx of users simply means that competition is tough. Recently, Chatwing launches a chat box tool that can help eBay beginners gather trading tips. This chat tool has been known for its versatility in different online communities.
When it comes to tips, pieces of advice, and walkthroughs, Chatwing has helped a lot of people by providing a stream of communication. Chatwing specializes in website chat because its developers believe in the sole power of information. "Information is the core of the Internet. Without it, the Internet will crumble and a lot of people will lose opportunities. Internet also comprises a large chunk of finance, so information delivery is crucial. As for eBay beginners, Chatwing chatrooms can help them communicate with eBay pros. This is important because a lot of eBay beginners lose out on their deals. Through proper tips, these beginners will now have a chance at making serious buck," Remarks Ivan Diamond, one of Chatwing's developers and researchers.
To boost communication further, Chatwing features social media integration for all of its users. Now, people can sign in with their Facebook and Twitter accounts. This is useful if they are looking for new friends and acquaintances. A lot of bloggers have also referred to Chatwing as the shoutbox of the information age.' This is because of Chatwing's versatility, ease of access, high rate of customization, and quick installation process.
Chatwing's development team has also observed that the chat widget can increase a blog's visibility by more than fifty percent. This percentage doubles if the blog contains informational and interesting content.
About Chatwing.com
Chatwing.com has developed live chat software for websites and blogs. It caters to different online communities due to its high rate of connectivity. Everyone can create a customizable live chat feature in 1 minute or less. Users have the ability to customize the size, color, and fonts of the chat product. The ability to chat live via social media accounts such as Facebook and Twitter enable Chatwing to offer a personal and unique real-time experience to all sites. Chatwing is 100% free and very easy to use.