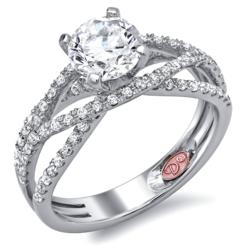 Demarco Bridal Jewelry at The 2012 Luxury & JCK.
Los Angeles, CA (PRWEB) May 23, 2012
Demarco has continuously not only set the trend in designer engagement rings but has done so with the warm acceptance by consumers and retailers alike. The Engagement Rings within the Lovers Knot collection from Demarco once again push the envelope and redefines the traditional engagement ring with the most modern twist. The technology that it takes to produce these unique beauties is not only innovative but it the craftsmanship that it takes to produce the one of a kind Lovers Knot Engagement Rings is unmatched.
Featuring the Signature Demarco Pink Diamond inside of every single ring, adding an extra touch which solidifies Demarco as THE designer of engagement rings.
Demarco also now offers visitors to their website the ability to view all their engagement rings with different options of center stones, making the online browsing experience more real and catered to the visitors desire.
Demarco Bridal Jewelry could not have a better stage than the 2012 Luxury by JCK & The JCK Show to debut their newest additions. JCK has proven to be the most successful source of exposure for the Demarco brand. JCK having the largest number of industry insiders along with a long list of better retail store attendees, Demarco in previous years has found great success at the JCK shows capturing numerous additions to a long list of Demarco Authorized Retailers.
The Lovers Knot Collection from Demarco Bridal Jewelry can now be viewed at http://www.demarcojewelry.com and at authorized Demarco retailers. Demarco Bridal Jewelry specializes in engagement rings of the highest quality craftsmanship and allure.
When we spoke to Emil Sardaryan from Emsar Design LTD in charge of Marketing for Demarco Bridal Jewelry he told us "The Lovers Knot Collection is the first of its kind, giving the consumer the look and feel of traditional antique engagement ring with the modern twist and cutting edge technology."