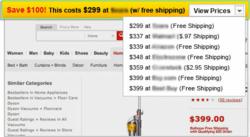 Add-ons and toolbars make coupons much more convenient for customers
Alexandria, Virginia (PRWEB) May 30, 2012
Besttoolbars is helping many cashback, coupon, and fundraising companies increase revenue with Browser Toolbars and Add-ons.
One of the hardest parts of using coupons is remembering to use them when shopping online. Besttoolbars Add-ons and Toolbars make using coupons a lot easier. Users don't need to visit a coupon website in order to get discounts. Any customer can use a coupon by browsing a merchant's website, and if there's a cash-back option, Toolbar will notify the user and offer a coupon.
An important feature of Add-ons is that they can look at all pages used by the browser and immediately process and modify them in any way you like. That allows Cashback and coupon companies to insert offers right on merchants' websites – and even on other vendors' websites – offering lower prices. According to Besttoolbars statistics, 86% of customers on the brink of buying a product buy from other vendors when they see an offer with a lower price. Besttoolbars' Add-ons and toolbars make coupons much more convenient for customers, and increase coupon use since the customer does not have to remember to search for them.
The factor of "forgetting" is even more important for fundraising companies, since donors often forget to use coupons when donating. Besttoolbars' browser Add-on solves this problem by intuitively notifying donors when they are visiting a website or looking for any product, service, or organization.
About Besttoolbars
Besttoolbars is the largest provider of custom browser solutions. For over 10 years, Besttoolbars has been providing companies with custom Browser Add-ons, Extensions, Toolbars, and Outlook Add-ins. The company is recognized as an industry expert in integration between the web and the desktop. More than 7,000 companies are using our solutions, including Fortune 500 companies: Microsoft, IBM, Intel, Amazon, AOL, Cisco, General Electric, DHL, and more.