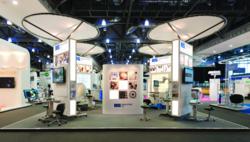 I am delighted to say that we had another successful RCO. This is a key event in the HS-UK calendar, it gives us an opportunity to speak to members of the RCO, many of which are existing valued Haag-Streit UK customers
Harlow, Essex (PRWEB UK) 23 May 2012
Haag-Streit UK exhibited at the Royal College of Ophthalmologists Annual Congress 2012 on the 15th – 17th May at the ACC, Liverpool. The show was very successful with record numbers of people visiting the Haag-Streit UK stand. All of the equipment showcased proved to be extremely popular, however, delegates showed a particular interest in the Lenstar LS900 Biometer.
The Lenstar non-contact Biometer provides nine measurements per scan, in under 30 seconds, improving accuracy. Patient flow can be vastly increased as there is no need for separate ultrasound measurements for lens thickness, pachymetry, keratometry and pupillometry.
A number of products were showcased from the Haag-Streit portfolio including; the BQ900 Slit Lamp with imaging and the Octopus 900 Perimeter. Haag-Streit also unveiled the newly NSC-approved DRS camera, which generated much interest.
Haag-Streit UK also exhibited a number of other key products including; the Ellex Tango SLT Laser and Eyecubed Ultrasound, and the Moller-Wedel Hi-R900 microscope. The newly-branded white stand was busy throughout the conference, with HS-UK staff providing demonstrations of the equipment.
Managing Director, Dean Johnson said, "I am delighted to say that we had another successful RCO. This is a key event in the HS-UK calendar, it gives us an opportunity to speak to members of the RCO, many of which are existing valued Haag-Streit UK customers".
For further information regarding Haag-Streit products, contact Haag-Streit UK on (01279) 414969.