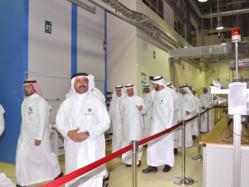 Riyadh, Saudi Arabia (PRWEB UK) 28 May 2012
The Trade and Industries Ministers in the Gulf Cooperation Council (GCC) countries, accompanied by H.E. Dr. Tawfeeq Al Rabiah - The Saudi Trade and Industries Minister, have visited Advanced Electronics Company (AEC), Saudi Arabia on May 16, 2012.
The purpose of this visit is to know more about AEC local capabilities. The ministers were given a detailed presentation and facility tour. They all expressed their admiration of AEC's substantial technical capabilities and achievements. They also praised AEC for the successful technology transfer into the region whilst employing Saudi nationals. Currently more than 73% of AEC employees are Saudi nationals working in advanced technological and professional positions.
Advanced Electronics Co; (AEC) is a National Economic Offset Company established in 1988. It is engaged in developing local capabilities in strategic areas of advanced electronics: manufacturing, repair, system integration as well as sustainment of advanced technology systems, products and services for different sectors like Defense, Telecommunications and Industrial. Dr. Ghassan Shibl President and CEO, AEC explains the rationale behind AEC's progress.
As an offset company, AEC was created to meet government objectives of diversifying the economy, creating job opportunities and transferring technology. These objectives have guided AEC management towards excellence, whilst supporting the wider needs of society. Although the charter of AEC is wide in scope within the electronics business, AEC aims to create values to all stakeholders with no exception.
"Exceptional organisations implement their mission and vision by developing a stakeholder focused strategy taking into account the markets and sectors in which it operates. Through dedication, we have made headway in serving the region respecting our corporate values with a range of products, solutions and services over the past 20 years", Dr. Ghassan Shibl President and CEO, AEC explains.
The organisation's goals are unequivocal. "We want to be the foremost electronics technology leader and ICT Solutions provider in the Middle East by developing a customer centric, market-driven, technology-based diversified organisation that localizes technology and creates job opportunities." Being customer-focused, we build our relationships on integrity, whilst ensuring total customer satisfaction. In this quest, AEC has adopted a holistic management approach that fosters business agility and effectiveness while striving for innovation, flexibility and integration.
The AEC team is naturally diverse – encompassing 2,100 people with a variety of skills, qualifications and experience. "We benefit from this tremendous source of local talent to create a great company – an empowered workforce that is committed to the success of our customers."
This has been demonstrated across all aspects of the business and AEC is improving its commitment to diversity by aligning its business strategies with end customer's priorities, creating long-term partnerships with leading international companies, harnessing opportunities, acquiring new capabilities and investing in their people as well as the community at large.
AEC is organised around three business areas: Military Systems Business Unit, Telecom Systems Business Unit and Industrial Systems Business Unit (supported by its Corporate Development Unit). Since 2008, non-organic growth by engaging joint ventures and partnerships has flourished. "We are ensuing partnerships in the areas of Next Generation Networks and Automatic Meter Reading (AMR) as these are examples of how AEC is addressing its growth strategy across all Business Sectors. We are considered a national asset by the customer communities and government institutions", Dr. Shibl reveals, "This keeps us striving to achieve new milestones."
AEC has made strides by embracing the most advanced tools in quality manufacturing and management (Six Sigma, Lean Manufacturing, Total Quality Management, Life Cycle management and Business Excellence). "These achievements are evident in the company results and we are convinced that a strong management approach has been beneficial to our growth in market share and revenues", Dr Shibl concludes.
For more information about Advanced Electronics Company, please visit http://www.aecl.com