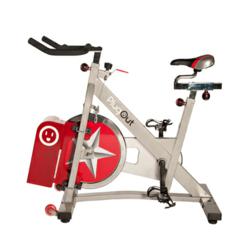 "These fitness products are great. They not only help you get in shape, they harness the energy you burn to put electricity back into the electrical grid," says Liz Newman with One Stop Green.
Houston, TX (PRWEB) May 23, 2012
One Stop Green is now affiliated with PlugOut Fitness, makers of green exercise equipment that generates energy based on activity and puts it back into the electrical grid. When fitness facilities use them in volume, the PlugOut Fitness Cycle, which is now available at OneStopGreen.com, can result in a dramatic reduction of energy usage due to the electricity generated by the exercise equipment.
The PlugOut Fitness products are like any other fitness machines, however as a person burns energy and calories, this is transformed into electricity, and the PlugOut Fitness products return this to the electrical grid through any standard electrical outlet. PlugOut Fitness machines can be used in any situation, however they perform best in large facilities where fitness equipment is used. When used in multiple, especially in busy facilities, the electrical meter could start running in reverse, meaning the amount of energy generated by the PlugOut Fitness machines is greater than the building's overall electricity usage.
The PlugOut Fitness Cycle is now available for sale on OneStopGreen.com and new exercise machines are currently under development. The PlugOut Cycle is an extremely versatile piece of equipment and provides one heck of a workout. It works well for group classes, warming up in a training studio, or even as an educational tool when incorporated into a high school classroom. It is easy to move when you want to use your space for something else and is also our most affordable fitness option.
Want to know more? Well as the rider works out, they produce energy that is converted intro electricity and returned to the building's electrical system. Using PlugOut's patent pending technology, this electricity is sent to the grid by simply plugging the standard three prong power that is included with the unit directly into a standard outlet. The PlugOut Fitness Cycle is ideal in many different facilities including health clubs, universities, condos, apartments, hotel facilities, and more.
One Stop Green, LLC facilitates environmentally friendly improvements to residential and commercial properties through distribution of green, energy efficient products and services. They offer every product needed for sustainable energy independence enabling homeowners, businesses and commercial property owners to master their usage by reducing waste and implementing efficient energy consumption methods. Their goal is to provide user friendly and practical long-term solutions to existing inefficiencies and their carefully selected products and professional installers offer a higher level of satisfaction and service for their customers.
Contact:
Nathan Kaufman
http://www.OneStopGreen.com
P: 877.449.9110|O: 713.541.2739|C: 210.846.5900