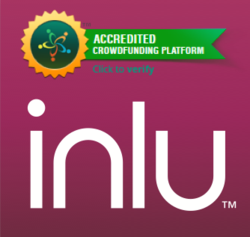 We see our accreditation as an important affirmation of the quality service we provide and encourage anyone wanting to raise funds for their projects, to look for this accreditation when selecting their collection tool of choice," said Monica Ostby
Burlington, VT (PRWEB) May 30, 2012
Inlu.com, a group-giving platform, has been used to organize events and raise funds for a variety of reasons from birthday parties and weddings to hurricane relief and medical emergencies. With passage of the JOBS Act, Inlu.com now adds crowdfunding for small businesses to its list of services, along with accreditation from Crowdsourcing.org.
Inlu has been used by thousands of consumers for celebrations, non-profit fundraising, and personal collections. With the historic Jumpstart Our Business Startups (JOBS) Act signed into law on April 5th, 2012, Inlu makes the natural progression into offering a highly secure and transparent donation based crowdfunding platform.
"We know first hand the challenge of raising capital that new businesses and start ups face in our current economy. The JOBS Act creates new opportunities to bring a dream business or project to life with crowdsourcing. But in such a new category, the assurance of quality and consumer protection has not yet caught up, nor is easily found. We see Crowdsourcing.org's Accreditation as an important affirmation of the quality service we provide and encourage anyone wanting to raise funds for their projects, to look for this accreditation when selecting their collection tool of choice," said Monica Ostby, President and Co-Founder of Inlu.
Business owners are already adopting Inlu to rapidly raise funds from their networks and communities, allowing them to focus on their core services or products, rather than the challenging and often frustrating process of traditional investment pitching. Ostby herself is available to work directly with entrepreneurs who seek help in framing their crowdfunding Inlu efforts. "Inlu really was an important part of my start-up," says Stephanie Williams of Dottie Clover, an online boutique offering a unique selection of handpicked accessories.
Kevin Berg Grell, PhD, CAPS Program Director, at Crowdsourcing,org states that "Inlu is one of the best thought through crowdfunding models in the market for donations and collective giving right now. Their platform provides a highly functional and perfectly transparent opportunity for anyone to organize fundraising large and small in a safe environment. As the CAPS Director it is a pleasure for me to see Inlu among our early adopters in an effort to help establish the highest possible standards for the emerging crowdfunding industry."
More information about Inlu's crowdfunding platform can be found at http://www.inlu.com, and specifically at https://www.inlu.com/learn-more/179. Information regarding Inlu's platform for business group gift certificates can be found at http://www.weinlu.com
About Inlu
Inlu was founded by Monica Ostby and Jamaica Jenkins, two mothers wanting a better way to coordinate the group efforts they experienced as parents and community organizers. Applying the compliment of their backgrounds they introduced the patent pending Inlu platform in 2009 to be the most flexible and immediate group giving system available in market.
Today, thousands of Inlu users have participated in group giving efforts for personal events as well as fundraising for over 100 charities across the U.S.. Inlu's Planet Point tracking system estimates that over 100,000 pounds of CO2 emissions have been spared using Inlu – in lieu of traditional gifting. Ostby's favorite Inlus include a neighborhood's initiative in Massachusetts to build a wheelchair ramp for a father, helping an Arizona middle school football team raise funds to make it to their first national championship competition, and a Vermont wedding registry asking for nothing but "a new tractor."