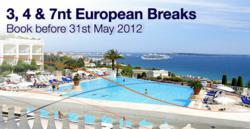 (PRWEB UK) 26 May 2012
Superbreak, the short breaks specialist, has established a new partnership with one of Europe's largest self catering holiday company, Pierre & Vacances, offering customers even more value on their European holiday with a special introductory 50% savings offer valid until the 31st May 2012. Pierre & Vacances own a number of self catering apartments throughout Europe which provide superb value for anyone planning a European break and the York based tour operator have secured excellent room allocation in resorts throughout Spain and France.
Superbreak customers seeking an overseas break throughout May, June, September and October can choose from a selection of 3, 4 and 7 night breaks in over twenty resorts, including popular destinations such as the Costa del Sol, French Riviera and Loire Valley. Set in stunning locations, the Pierre & Vacances resorts are well-equipped for short breaks, with a range of onsite facilities including swimming pools, tennis courts, golf courses and English speaking kids clubs to ensure the whole family is catered for. Customers also have the option to include a ferry crossing from either Dover to Calais or Dover to Dunkerque (bookable via the Superbreak call centre) a family of four can enjoy a four night break in France from just £179.
What's more, with the recent introduction of its Eurostar Breaks, Superbreak customers can benefit from flexible and easy access to continental Europe, as well as flight packages opening up even easier travel opportunities to the Spanish Costas. Last year, over 60,000 passengers travelled with the operator on a European/Overseas break and Superbreak hope the introduction of the new Pierre & Vacances partnership will only help grow its European sales further.
In celebration of the new addition of the Pierre & Vacances properties to their catalogue of overseas hotels Superbreak are providing its customers with a special introductory offer. Valid until the 31st May 2012, Superbreak customers can enjoy savings of up to 50% when booking a 3, 4 & 7 night stay at Pierre & Vacances resorts.
Superbreak's Head of Overseas and Ancillary Product & Contracting Chris Hagan commented: 'We have joined forces with Pierre & Vacances, one of the largest providers of holiday accommodation in Europe to offer a range of great value short breaks in a selection of their Holiday Villages and Residences throughout France and Spain at unbelievable prices."
"Locations include easy-to-reach Picardy in Northern France to the action packed resorts of Costa del Sol, whilst their famous Holiday Villages offer everything you need to enjoy a short break in one location. What's more we are able to include either return ferry travel to the continent or a range of great value flights to our Pierre & Vacances short breaks allowing Superbreak to be your one stop shop!"
About Superbreak:
Superbreak is the internet division of Superbreak Mini Holidays Limited, the market leader for short breaks and hotels throughout the UK, including last minute hotel deals in Edinburgh, Paris and Dubai. Superbreak is part of Holiday Break plc. Based in York, England, Superbreak specialises in booking city breaks in 2-5 star hotel accommodation throughout Britain for the leisure traveller. Superbreak also work with various travel providers offering a range of rail breaks, P&O mini cruise breaks, flights & more.
With 5000 plus hotel partners in worldwide locations from hotels in Manchester to Brighton, and London to Paris and with great availability and rates for theatre breaks, events at the O2 Arena, various popular attractions and national and international rail partners, Superbreak can offer an outstanding depth and breadth of UK and Overseas short break products.
For further information on Superbreak or on this PR, please contact:
Khalid Amin
Online Marketing Manager
Superbreak Mini-Holidays
Eboracum Way
York
YO31 7RE
(01904) 436043
http://www.superbreak.com