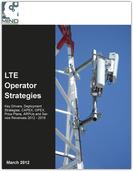 Mobile network operators need to move beyond basic services with Value-added Service (VAS) offerings to enhance revenues and improve margins.
(PRWEB) May 28, 2012
A recent research report from Mind Commerce predicts that LTE ARPUs will begin sliding as LTE moves beyond early adopters. Driven by early adoption among the enterprise users, LTE ARPUs will peak in 2012, reaching $88 per month, and drop down by a Y-o-Y (year-over-year) decline of 16 percent over the next five years as the consumer market segment gains a higher market share.
Skyrocketing mobile broadband demand is driving an ever increasing number of commercial LTE network deployments. This surge has seen the number of LTE subscriptions already surpassed 8 Million subscriptions worldwide, over 300+ commercial LTE user device launches and 75 commercial LTE networks.
As carriers remain committed to deliver mobile broadband services over their LTE networks, a number of critical questions remain unanswered:

How much revenue can a carrier generate with an LTE deployment?
What is the typical ARPU for an LTE subscription worldwide or in particular regional market and how will it fluctuate in the next 5 years?
What is the relative Total Cost of Ownership (TCO) of an LTE network in comparison to competing technologies such as HSPA + and WiMAX?
What is the market outlook for VoLTE (Voice over LTE) and wholesale LTE networks, and when would the first VoLTE deployments take place?
How much CAPEX and OPEX would an MNO require to deploy at LTE network, and what strategies can be adopted to minimize both CAPEX and OPEX?
Mind Commerce's report "LTE Operator Strategies: Key Drivers, Deployment Strategies, CAPEX, OPEX, Price Plans, ARPUs and Service Revenues 2012 – 2016" answers the aforementioned questions by quantifying LTE service revenues, subscriptions, ARPUs, CAPEX and OPEX. In addition, the report reviews key trends in LTE deployment strategies such as VoLTE and SMS over LTE, the wholesale deployment model, Self-Organizing Networks (SONs) and the emergence of the data off-load (small cells, HetNets, Wi-Fi offload) equipment market.
The report further provides a global review of LTE price plans and key operator strategies for LTE pricing and marketing. The report is supplement by an excel based interactive forecasting suite that can be used to forecast LTE service revenue, ARPUs, and subscriptions for particular regional markets, countries or operators from 2011 to 2016.
More information about the report is available from Mind Commerce at:
http://www.mindcommerce.com/Publications/LTE_MobileOperatorStrategies_2012-2016.php
A report brochure is available for download (PDF) from Mind Commerce at:
http://www.mindcommerce.com/sites/default/files/brochure/LTE_MobileOperatorStrategies_2012-2016_March2012.pdf
About Mind Commerce
The Mind Commerce® mission is to provide customized research, consulting, training, and writing services for the telecommunications and IT industry within our areas of expertise. Mind Commerce clients include manufacturers, developers, service providers, industry organizations, and government. Mind Commerce partners include various leading firms in the telecommunications industry. Mind Commerce differentiates itself from its competition by meeting the unique needs of its clients through customized product development and service delivery.
Contact Mind Commerce at: 1 877 MIND COM (877 646 3266)