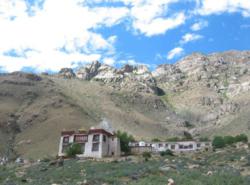 (PRWEB) May 24, 2012
Explore Tibet, a Lhasa-based Tibet travel agency, announces a half-day hike from Lhasa to Pabonka Monastery, located on the lower slopes of Mount Dukri.
"Pabonka is the most important of the Sera hermitages, and the place where the Tibetan alphabet was invented," Explore Tibet said. "It's an interesting historical site, and visitors to the monastery can share butter tea with the monks and learn about Tibetan culture."
Pabonka is located 8 kilometers north of Lhasa. To reach the monastery travelers must follow a rugged trail up to a flat-topped granite boulder. The construction date of the complex is unknown, though it may predate the famous Jokhang Temple in Lhasa. It is one of the oldest Buddhist temples in Tibet, and King Songtsen Gampo and his two wives visited the monastery in the 7th century.
The scholar Thonmi Sambhota was said to have been sent by Songtsen Gampo to India to learn from the Buddhist scholars there. When he returned to Pabonka he devised a script for the Tibetan language based on Brahmi and Gupta scripts from the 4th century.
The monastery contains the famous six-syllable mantra carved into the hallway. It also houses a large amount of shrines and relics, many uncovered since the end of the Cultural Revolution. Near the monastery there is a hermitage, a nunnery, and 108 chortens.
"The hermitage is rarely visited, since most tourists have limited time and prefer to see the Sera Monastery nearby," Explore Tibet said. "A visit to Pabonka is a great destination for travelers who want to go 'off the beaten track' and discover some of Tibet's lesser-known cultural sites."
Explore Tibet is a Tibetan-run Tibet travel agency focused on responsible tourism and sustainable practice.