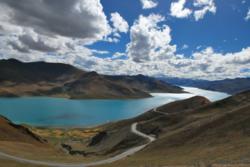 (PRWEB) May 25, 2012
Explore Tibet, a Lhasa-based Tibet travel agency, announced a day trip to holy Yamdrok Lake. "Yamdrok Lake is one of the three holy lakes of Tibet," Explore Tibet said. "The deep turquoise color of the lake and the surrounding snow-capped peaks are awe-inspiring."
Yamdrok Lake is located about 100 miles southwest of Lhasa, and is reached by crossing the 4750 meter Gampa la pass. The switchbacks and high peaks on the road are strewn with prayer flags, marking this journey as a popular pilgrimage site.
The lake, also called Yamdok Yumtso, is thought to be a transformed goddess. Like many of the mountains and lakes of Tibet, Yamdrok is said to sustain the spiritual life of Tibetan people. It holds a great value among Tibetans and pilgrims offer prayer flags and makes pilgrimage to the lake.
Samding Monastery sits on a peninsula of the lake. This monastery is famous for being the home of the only female Lama in Tibetan history, Dorje Pakmo. She is known as the third-highest ranking lama in Tibetan Buddhist tradition, after the Dalai Lama and the Panchen Lama. The monastery continues to be run by a female abbot.
Farmers and fishermen live and work around the lake, following a traditional Tibetan lifestyle. Since 1996 a large power station has been running at the western end of the lake.
Explore Tibet is a Tibetan-run travel agency focused on responsible tourism, Tibet permit and sustainable practice.