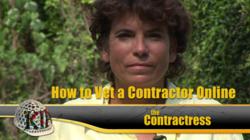 . "I made this video to demystify the contractor vetting process for homeowners," says Ricchi
Orlando, Florida (PRWEB) May 24, 2012
Even when the sun is shining and life is good, finding competent contractors is a time-consuming and stressful process. But after a hurricane, when emotions prevail and work is needed urgently, it's all too easy for homeowners to fall prey to contractors who are incompetent and even unscrupulous. If you're a homeowner, it's imperative to prepare yourself for hurricane season by prescreening contractors. And you don't even have to leave home to find the information you need! In How to Vet a Contractor Online, a newly released free video at TheContractress.com, you'll learn just how simple it is to vet prospective contractors using public information and government websites.
In How to Vet a Contractor Online, Kia Ricchi, a licensed contractor and consultant, reveals actual screenshots of government websites and explains how to verify contractor licensing and insurance using a simple two-step process. "I made this video to demystify the contractor vetting process for homeowners," says Ricchi. "When this kind of 'homework' feels complicated, homeowners are likely to put it off—until it's too late. I don't want homeowners to get stuck with hurricane damage and then be doubly victimized a contractor who doesn't know what he or she is doing. In How to Vet a Contractor Online, I show homeowners how easy it is to get this information on the internet."
In addition to carefully vetting a prospective contractor, Ricchi recommends working closely with professionals such as insurance agents, attorneys, and building officials, and having the contractor pull a building permit for the proposed work. "A building permit is important because it helps ensure that the work is code-compliant and that the contractor meets the state's requirements for contracting," Ricchi says. "Beware of the contractor who asks you to pull a permit because it may indicate that the contractor is unqualified to do so. It also transfers responsibility and potential risk to you."
With the hurricane season pending, Ricchi advises homeowners to do their homework now, before urgent post-storm repairs are needed.
For videos, articles, and podcasts, visit http://www.TheContractress.com.
Ricchi is a Florida licensed contractor, consultant, and author of Avoiding the Con in Construction—winner of three national book awards and included in the Library Journal's "Best of" list. She is a contributor to NPR affiliate stations, Remodeling Magazine, and FineHomebuilding.com, and is quoted in TheStreet.com, Inman.com, and MoneyPit.com. Together with her team of experts, Ricchi consults and educates owners, with a special emphasis on construction contracting practices and risk assessment.