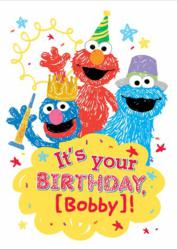 Cleveland, OH (PRWEB) May 23, 2012
Whether you grew up with them or you're growing up with them, everyone loves the characters from Sesame Street, and now birthday cards featuring all of those entertaining personalities are available at Cardstore.com, from the American Greetings Corporation (NYSE: AM) family of brands.
The new collection includes greetings for a wide range of sending situations including birthday cards, birthday thank you cards, and birthday invitation cards. In addition to the great variety, the Sesame Street greetings feature the personalization options that Cardstore.com visitors love and that any recipient is sure to enjoy.
"Sesame Street is one of the most iconic and beloved brands in the world and we are thrilled to be able to offer products featuring these characters," said Elizabeth Draeger, Senior Product Manager at Cardstore. "What makes this collection so great is that whether you want to amaze your little one with their picture on a Sesame Street card or ensure a few laughs from a friend that still can't get enough Elmo or Cookie Monster, there really is something for every fan."
Cardstore offers more than 9,500 greeting card designs for users to personalize with favorite photos, heartfelt messages, and even their own signature for the perfect final touch. To check out the wide variety of photo card and greeting card designs perfect for any occasion, visit http://www.cardstore.com.
About American Greetings Corporation
For more than 100 years, American Greetings Corporation (NYSE: AM) has been a creator and manufacturer of innovative social expression products that assist consumers in enhancing their relationships to create happiness, laughter and love. The Company's major greeting card lines are American Greetings, Carlton Cards, Gibson, Recycled Paper Greetings and Papyrus, and other paper product offerings include DesignWare party goods and American Greetings and Plus Mark gift-wrap and boxed cards. American Greetings also has one of the largest collections of greetings on the Web, including greeting cards available at Cardstore.com and electronic greeting cards available at AmericanGreetings.com. In addition to its product lines, American Greetings also creates and licenses popular character brands through the American Greetings Properties group. Headquartered in Cleveland, Ohio, American Greetings generates annual revenue of approximately $1.7billion, and its products can be found in retail outlets worldwide. For more information on the Company, visit http://corporate.americangreetings.com.