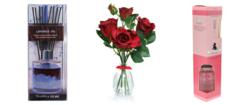 Reed diffusers have become so popular that we've added 250 different types on our site in order to satisfy customer demand, especially for the summer season as it seems to be the preferred method of scent. -Vlad Vassiliev, Director of Scented Candle Shop
London, UK (PRWEB UK) 30 May 2012
The summertime heat is hot enough without a candle's flame giving the sensation of more warmth. In the summertime, I think I speak for most people when I say candles are not part of my summer necessities, but a refreshing scent is definitely key. Thankfully there is a new product that answers to summer scent demand, the Reed Diffuser. The online retail store Scented Candle Shop has over 4,000 scented candles and home fragrancing alternatives! In fact, their online range is the biggest in Europe and probably even the world. However, even this well stocked online retailer has added over 250 different kinds of reed diffusers to their repertoire in order to keep sales up in the summer and meet customer demand.
So, what is a reed diffuser? Well, the design itself is quite simple, but very sophisticated. A typical design features a re-usable bottle containing scented oil along with reeds that protrude out of its opening. The device dispenses scent by naturally diffusing the liquid fragrance through the wooden reeds and then into the open air. Conveniently, flipping less or more reeds will control the fragrance throw. No heat, no fuss, just continuous fragrance.
Different to traditional scent solutions, the reed diffuser has no flame, no batteries and still lasts for several months. Summertime customers see this product as an essential over candles. People no longer have to worry about ruined melty wax candles or additive heat produced from a flame. Hype on the Internet even says that reed diffusers can easily out yield candles in scent production since the perfumer constantly releases fragrance.
For garden parties and barbeques reed diffusers elevate the carefree nature of a summer atmosphere. Typically I would use a citronella candle outside in the summer, but since I hate to worry about the flame around occupied party guests, pets and children I plan to use a citronella reed diffuser instead. Since reed differ bottles are reusable I will then use the same decorative bottle for more summers to come, but with the ability to sample other bug unfriendly scents.
For home decorating gurus, Scented Candle Shop has created a Wax Lyrical reed diffuser bar where scents, reed colours and bottle types can all be individually picked. The available reed diffuser choice on this site is teeth chattering good and will please the pickiest of people. Choose from Yankee, Wax Lyrical, Woodwick, oil refills, reeds, bottles and on and on.
Reed diffusers are very popular in homes where children and pets exist, in warmer climate areas or times of the year, as a décor upgrade and in general as a way to save time, money and energy. This makes reed diffusers a very cost effective way of fragrancing a space and popular where safety is a concern.
As summer peaks it's fateful sun raze into the next few weeks, this particular method of scent and decorating will dominate the scene. For more information on reed diffusers you can watch this video produced by the company.
For any press inquiries regarding Scented Candle Shop or Reed Diffusers please email Vlad(at)scentedcandleshop(dot)com or call 0845 4 300 705.