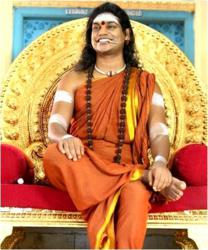 Taking Responsibility for everything happening in you, with you and around you is Living Enlightenment.
Los Angeles, California (PRWEB) May 24, 2012
Recently coronated as the 293rd pontiff of Madurai Aadheenam, the most ancient Hindu organization in the world, Paramahamsa Nithyananda defines the changing role of socio-spiritual organizations in today's world: 'With the world turning to spirituality for answers, spiritual organizations should act as the hub of social reform and enlightened governance,' says Paramahamsa Nithyananda. 'While preserving the depth of the spiritual teachings, we should not lose out on the breadth of social outreach as well. As Swami Vivekananda once said, all I need is a hundred sincere people, ready to bring about a real change in human consciousness.'
Speaking to media on the occasion of his visit to Tiruppurampiyam Saakshinathar temple in Tamil Nadu's Tanjore Dt. of southern India, Paramahamsa Nithyananda revealed that Tiruppurampiyam would be his future cultural headquarters. The sprawling Tiruppurampiyam temple is one of the four temples in Tamil Nadu of which Madurai Aadheenam are the hereditary trustees. With the approval of his predecessor Srila Sri Arunagirinatha Sri Gnanasambanda Desika Paramacharya Swamigal, the kumbhabhishekam (ritual consecration ceremony) of the temple would be performed by the end of 2012, said Nithyananda. Kumbhabhishekam is a mandatory ceremony performed at least once in 12 years in any Hindu temple to maintain the sanctity and recharge the energy field of the temple. Paramahamsa Nithyananda also has an agenda to start a traditional vedapathashala in Tiruppurampiyam for traditional scripture study and training in Vedic rituals.
Elaborating on his plans for social reform in Tiruppurampiyam, Nithaynanda said that a high school and a 20-bed hospital would be set up shortly in the village. Thiruparampiyam is one of the villages adopted under Madurai Aadheenam's newly-launched Model Village project, where basic amenities like clean drinking water, private toilets, 90% subsidized schooling and free medical care will be provided for all. About 100 devotees and volunteers who arrived at Tiruppurampiyam took the first step towards the restoration of the temple by cleaning the premises and completing minor repair works.
About Thiruparampiyam Saakshinathar temple: This ancient temple near Kumbakonam in Tamil Nadu dates back to the 5thcentury AD. Legend has it that Shiva appeared here as a witness (Saakshi) to defend his devotee, hence the name. The presiding deity of this temple is Lord Shiva in his incarnation as Dakshinamurti, the first-ever guru, who imparted the ultimate spiritual instruction to four great saints. It is believed that the child-incarnation Thirugnana Sambandhar, one of the four visionary saints of the Shaiva Siddhanta tradition, performed a number of miracles at this ancient temple. The poet-saint Appar is said to have sung many devarams (hymns) in praise of Lord Shiva at this temple, and hence it is known as a Devara Sthalam.
About Nithyananda:
His Holiness Paramahamsa Nithyananda is recognized as one of the world's top 100 most spiritually influential personalities of 2012 by the reputed esoteric magazine 'Mind Body Spirit' from Watkins.
Paramahamsa Nithyananda is a global leader in yoga, meditation, kundalini awakening enlightenment science. Clear, dynamic and modern in approach, Nithyananda's teachings have already transformed 15 million followers in 150 countries with the fastest growing spiritual community around the youngest incarnation.
For more information on Paramahamsa Nithyananda's Teachings, please visit : http://www.youtube.com/lifeblissfoundation
http://innerawakening.org/