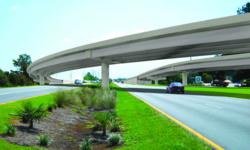 "This will help traffic problems all around." - Mary Johnson, resident Moss Creek Plantation
Hilton Head Island, SC (PRWEB) May 25, 2012
The Town of Hilton Head is taking action to help guests and residents leave the island at a moment's notice in the event of an emergency, announces The Vacation Company an area vacation rentals firm. This is good news for visitors and property owners who are worried about an easy escape route during certain times of the year when weather patterns can be unpredictable along the southeast coast.
However, many are concerned that two flyover bridges will have a negative impact on the aesthetics of this lowcountry drive many take from I 95 to Hilton Head. Flyovers remind people of the city highway designs they left behind. True, much of this stretch of Rte 278 is already dotted with signage, frequent stoplights, and shopping plazas with the ubiquitous big-box warehouse stores anyway; bringing the definition of the word, aesthetics, under scrutiny.
In any event, the Hilton Head town panel has already given this project the green light and construction will begin this fall, 2012. "This is a great step forward and will improve driving conditions for our guests," says Bob Hawkins, co-owner of The Vacation Company. A matching grant of $15m from the state sped up the process and sent council members quickly to a decision regarding the controversial plan. Most property owners on and off the island have come to terms with the necessity of the extra ramps for emergency situations since the concept was first brought to the table in 2004. The consensus now is that the planning should follow through to include what happens on either side of the flyovers, where the lanes are the same and the congestion is the same, including the bridges to Hilton Head.
"I think, overall this is a good idea," says Palmetto Bluff resident Alfred Urbano, "as long as they remember the congestion on either side of the flyovers." Agrees Sea Pines Resort resident Jack Laudermilch, who welcomes the idea of an alternate route to support the growing populace and tourism industry, however, "Flyovers won't ease the traffic jams, unless forethought is put into the flow on Bluffton Parkway," states Laudermilch.
An added condition for groundbreaking was to make the flyover construction coincide with a state Department of Transportation project to build an access road to Windmill Harbour, which is currently entered via intersection from William Hilton Parkway, a juncture of increasing concern to residents for being too dangerous.
Hilton Head Island is renowned for endorsing an outdoor-geared lifestyle, long-term conservation efforts, as well as an enduring family-friendly atmosphere. These goals have been maintained by strict town building codes (trees and salt marshes left alone throughout major
development), and an agenda of promoting outdoor, family-oriented activities such as tennis, golf, fishing, kayaking, swimming, parasailing, paddle-boarding, outdoor live entertainment for
children, like Gregg Russell and Shannon Tanner, and endless miles of paved bike trails gliding through lush woods and golf courses.
The Vacation Company is a vacation home & villa rental agency committed to providing top-quality service and accommodations to island visitors, family vacationers, and property owners. With over 20 years experience managing Hilton Head's luxury home and villa rentals, The Vacation Company continues its own tradition of supporting island community organizations and events such as the RBC Heritage Presented by Boeing annual golf tournament, the annual Professional Tennis Registry (PTR) tournament, and the Rest & Relaxation (R&R) program which offers home rentals to members of the armed forces on leave with their families.