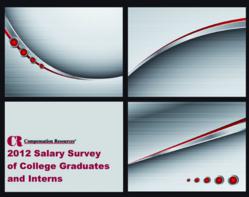 Upper Saddle River, NJ (PRWEB) May 25, 2012
Compensation Resources, Inc. (CRI) has released the results of its 2012 Salary Survey of College Graduates and Interns. The purpose of this study was to obtain compensation data and information on recruiting and hiring trends for new and recent college graduates and college interns. Data was collected between February and April and results were compiled from survey questions that were developed by Compensation Resources, Inc. and distributed to companies in all industrial classifications, broken down among six categories. There were 91 organizations that participated in this study.
Compensation data is reported as of March 1, 2012 in the following dimensions:

Average
Median
25th and 75th percentiles
Reported minimum and maximum
This survey is a valuable tool for hiring college graduates and interns. For the price of $110, it is a must have for your company's library.
For more information on ordering this survey, please contact Andy Sellers, Data Services Manager, at (201) 934-0505 x115 or visit http://www.CompensationResources.com.
About Compensation Resources, Inc. (CRI): CRI provides compensation and human resource consulting services to mid and small cap public companies, private, family-owned, and closely held firms, as well as not-for-profit organizations. CRI specializes in executive compensation, sales compensation, pay-for-performance and incentive compensation, performance management programs, and expert witness services.