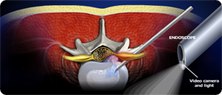 When surgery is indicated, many patients can benefit from the newest treatment, 'endoscopic discectomy,' a minimally invasive procedure that removes the damaged disc material that is causing pain and provides long-lasting relief
Edison, NJ (PRWEB) May 24, 2012
As many as 90% of Americans suffer back pain at some point in their lives. We spend approximately $50 billion a year in search of relief. Back pain is second only to the common cold as a cause of lost days at work and it is one of the most common reasons to visit a doctor's office or a hospital's emergency department. "Many cases of back pain will resolve in a few weeks with rest, anti-inflammatory medication and physical therapy," says Dr. Kaixuan Liu, chief surgeon at Atlantic Spinal Care. When these measures are insufficient, an injection of a cortisone-like medicine into the lower back can relieve symptoms. "But for those who do not respond to other treatments, whose symptoms get worse, or who experience progressive neurological decline, surgery is advised" says Dr. Liu. "When surgery is indicated, many patients can benefit from the newest treatment, 'endoscopic discectomy,' a minimally invasive procedure that removes the damaged disc material that is causing pain and provides long-lasting relief."
Endoscopic discectomy, an outpatient procedure, is the newest and most advanced modern technique that does not involve bone removal, muscle damage, or large skin incisions. Instead, it uses x-ray imaging and magnified video to guide an endoscopic probe into the damaged disc space. Endoscopic discectomy surgery can be performed on either the lumbar (lower) or cervical (upper) spine. Disc damage is more common in the lumbar region, causing pain in the lower back and nerve pain in the buttocks and down the back of the leg (sciatica). With cervical damage, there may be pain in the neck, the shoulder, or radiating down the arm.
Lumbar endoscopic discectomy is performed under local anesthesia; the cervical procedure is usually performed under general anesthesia. In both procedures, a small metal tube, the size of a pencil, is inserted into the troublesome spine area under x-ray fluoroscopy guidance. This tube serves as a passage for the surgical tools so that the patient's muscles do not have to be torn or cut, as they would be in a traditional open discectomy. The damaged disc is located with a tiny camera (endoscope) looking through the tube. Under the guidance of the x-ray fluoroscopy and magnified video, the herniated disc is pulled out. A small disc bulge or annular tear can be treated with a laser, which vaporizes disc material, kills pain nerves inside the disc, and hardens the disc to prevent further leakage of disc material to the surrounding nerves. Finally, the tube is removed and the incision is closed with a stitch or two. The patient is encouraged to walk around and leaves the surgical center the same day.
Disc damage can result from sudden trauma but in most people is precipitated by years of wear and tear. Discs are shock-absorbing cushions between the vertebrae in the spine. Each disc has a strong, fibrous outer ring and a soft, gel-like center. When the soft material inside the disc bulges out of place or ruptures, it may press on a nerve and cause pain that follows the length of the nerve, sometimes accompanied by numbness, weakness, tingling and loss of reflexes. This is more likely to happen with age as the discs weaken and become more prone to tearing.
"Endoscopic discectomy is highly effective in treating back pain caused by damaged discs," Dr. Liu concludes, "and it eliminates many of the risks and complications of conventional open surgery. There is only a very small incision and no damage to the back muscles. Recovery is faster and more comfortable, with less need for pain medication. Our patients have been very satisfied with the results."
Atlantic Spine Center is a leading provider of a full range of spinal treatment, specializing in minimally invasive endoscopic discectomy.
Kaixuan Liu, MD, PhD, founder and chief surgeon, is board certified in anesthesiology, pain management and minimally invasive spine surgery. He earned his medical degree at Hubei Medical College in China, followed by four years of residency in cardiothoracic surgery at Beijing Medical University, the most prestigious medical school in China. He trained in surgery and anesthesiology at Columbia University in New York and held a fellowship in minimally invasive spine surgery at Advanced Orthopedics of South Florida. Dr. Liu also earned a PhD in biomedical sciences at Auburn University in Alabama. He is a visiting associate professor in the Department of Orthopedics, West China Hospital, Sichuan University, China, ranked among the 10 best hospitals in China.