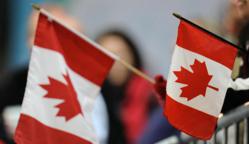 The IOC Executive Board starts its three-day meeting in Quebec City today by exchanging views with the Olympic Summer and Winter International Federations
(PRWEB) May 23, 2012
IOC President Jacques Rogge addressed the delegates of the 2012 SportAccord convention during yesterday's official Opening Ceremony in Quebec City, Canada. The IOC Executive Board is convening alongside the event which brings together sports leaders with sponsors, architects, sports lawyers, broadcasters and rights-holders.
During his speech, the IOC President congratulated SportAccord on its 10th anniversary and looked ahead to the London 2012 Olympic Games, which will begin in about two months' time. He praised the London organisers, under the leadership of Sebastian Coe, for being on schedule as well as on budget.
Fund-raiser for young athletes
A few hours prior to the ceremony, the IOC President attended a major fundraising event hosted by the Canadian Olympic Committee (COC), aimed at supporting young Canadian athletes. The 4,000 guests included Quebec Premier Jean Charest, COC President Marcel Aubut, Quebec mayor Regis Labeaume and more than 100 Canadian athletes, including big names such as Joannie Rochette, Mark Tewksbury, Elvis Stojko, Susan Auch, Donovan Bailey, Adam Kreek and Beckie Scott. During his speech, Rogge praised Canada's sporting tradition and culture, looked back on the successful Vancouver 2010 Olympic Games and stressed the importance of the cooperation between sport, governments and public authorities.
IOC Executive Board meeting
The IOC Executive Board starts its three-day meeting in Quebec City today by exchanging views with the Olympic Summer and Winter International Federations. In the afternoon, the Board will hear technical reports about the five applicant cities for the 2020 Olympic Games, which are (in alphabetical order): Baku (Azerbaijan), Doha (Qatar), Istanbul (Turkey), Madrid (Spain) and Tokyo (Japan). It will then select the cities that will become Candidate Cities and thus enter the next phase of the IOC's two-step procedure on the road to the 2020 host city election, which will take place in Buenos Aires, Argentina, on 7 September 2013.
Learn more about SportAccord and this year's convention theme, "A Decade of Change, A Future of Promise" here
For more information, please contact the IOC Media Relations Team.
###