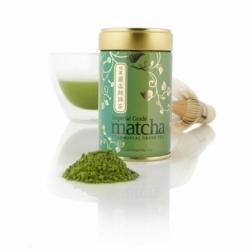 Teavana has launched a new series of videos that detail the history and preparation of Matcha tea. The videos also give step by step matcha drink recipes and teaware recommendations.
Atlanta, GA (PRWEB) May 24, 2012
Teavana, a leading seller of fine teas and teawares, has launched a comprehensive video series about matcha tea. The videos feature information about the history of matcha, as well as several step-by-step matcha recipes.
As Teavana's Master Teaologist, Naoko, explains in the video series that matcha is a fine green tea powder made from shade grown tea leaves. With proper storage and preparation, matcha can be transformed into a number of fine drinks. Naoko demonstrates why Teavana's matcha powder produces superior recipes.
Teavana's matcha is ceremonial grade, which means it is shade grown for 30 days – 10 days longer than the industry standard. In mid-April the youngest tea leaves sprout, and then the entire tea garden is covered in shade. By gradually shading the tea garden in layers, adding a new shade every week for 30 days, 97% of the sunlight is ultimately blocked. Thus, the tea leaves grow slowly, which makes them large and rich with chlorophyll. The extra chlorophyll is what gives Teavana's matcha such a vibrant, deep green color. Because matcha storage is an important factor in its quality, Teavana sells its matcha in an air-tight, light-tight, vacuum-sealed tin.
In addition to details about powdered matcha, Teavana's video series also showcases delicious recipes for preparing traditional matcha, iced matcha, matcha lattes, and matcha smoothies. Each recipe video also highlights Teavana products that can enhance the preparation, service, and flavor of each drink such as bamboo whisks, lacquer serving trays, or German rock sugar.
Matcha drinks are unique because the entire tea leaf is consumed. This may give the body a higher concentration of non-water soluble vitamins, minerals, and fiber. Matcha is just one type of tea that Teavana specializes in, and the matcha video series is the latest entry to the Tea Info Center. Visit Teavana.com to shop for tea or learn more about it.
About Teavana
Teavana is a specialty retailer offering more than 100 varieties of premium loose-leaf teas, authentic artisanal teawares and other tea-related merchandise through over 200 company-owned stores and on its website. Founded in 1997, the company offers new tea enthusiasts and tea connoisseurs alike its "Heaven of Tea" retail experience where passionate and knowledgeable "teaologists" engage and educate them about the ritual and enjoyment of tea. The company's mission is to establish Teavana as the most recognized and respected brand in the tea industry by expanding the culture of tea across the world. To support the tea culture globally, Teavana donates approximately 1% of annual net profits to the Cooperative for Assistance and Relief Everywhere, Inc., or "CARE," through its Teavana Equatrade program. For more information, visit http://www.teavana.com