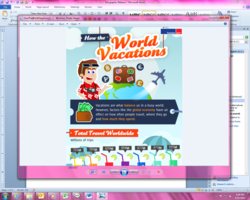 "Factors such as the global economy have an effect on how often people travel, where they go and how much they spend."
New York, NY (PRWEB) May 23, 2012
– According to Travelex, the world's largest foreign currency exchange service, a recent study showed that factors such as the global economy have an effect on how often people travel, where they go and how much they spend. Total worldwide travel has increased each year since 2005, with the exception of 2009, when travel was down 3.9 percent as a direct impact of the global recession.
Results also showed that though international travel is popular among tourists of all nationalities, the ways in which they travel and how they spend their money differ significantly by country. The Chinese, for example, traveled by sea to a far greater extent than their counterparts in the U.S. and U.K but also took far shorter trips – an average of six days as compared to 10 for U.S. international travelers and 11 days for U.K. travelers.
Other key findings include:

Destinations Vary: Each nation's favorite travel destination varies widely depending on location. For travelers from the UK, Spain is their favorite destination, while Americans tend to go to Mexico. However, when the Chinese travel abroad, almost half of the time they're heading to Hong Kong.
Dollar Power: A whopping 27 percent of Americans are actually still using the dollar when spending abroad.
Cash Before Travel: Across the board, travelers like to be prepared when they arrive at their destination. Forty percent more vacationers get their cash from places like currency exchanges, banks, at the airport, or travel agency before they travel than those who wait until they arrive at their destination.
According to the multi-country study, 53 percent of travelers get their cash from a foreign currency exchange bureau, bank, or travel agent prior to their trip while 35 percent get their cash from a bank or foreign currency bureau within the destination. Research also showed that credit cards can cause travelers headaches, with over a third of travelers reporting that their credit cards were either not accepted, stolen or cloned.
The study infographic can be found at http://www.travelex.com/how-the-world-vacations/
About Travelex:
Travelex is the world leader in the foreign currency business, with more stores, more airport relationships, and more annual transactions than any competitor. Recently voted "Best Passenger Services" by major North American airports, Travelex has almost 1000 stores in 24 countries at key airport, seaport, rail and tourist locations. Travelex is also one of the world's leading providers of outsourced travel money to banks, credit unions and travel agents. Among the company's innovative services is Cash Passport™, which allows users to pre-load their travel budget onto a convenient card for safe and convenient use in millions of ATMs, shops, and restaurants worldwide. Cash Passport is PIN and signature protected and is not connected to the user's bank account, thereby minimizing the risk of identity theft due to the loss or theft of a Cash Passport.
Cash Passport™ is a trademark of Access Prepaid Worldwide Ltd, a MasterCard Worldwide company.
This card is issued by West Suburban Bank pursuant to license by MasterCard International Incorporated. MasterCard and the MasterCard Brand Mark are registered trademarks of MasterCard International Incorporated.
For more information on Travelex, visit: http://www.Travelex.com