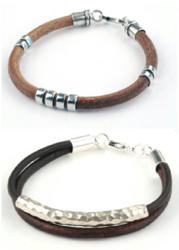 "Guys are intrigued by jewelry but not everyone wants to rock an armload of stone and steel. Many are looking for more subtle pieces that express their style," says Coracao cofounder Ed LaPlante
Ormond Beach, FL (PRWEB) May 28, 2012
Just in time for Father's Day, Coraçao Jewelry introduces a line of jewelry for men who want to make a fashion statement with less bling and more polish. Wristbands made of rugged leather, earthy stones, and sterling silver will outlast trends and be gifts that men will want to wear for years to come.
Clothing may make the man, but fashionable men know accessories complete the look. The New York Times reports that men are wild for accessories. Purchases of men's jewelry and accessories in the last half of 2011 fueled sales up 14% to nearly $6 billion, it says, adding that men's bracelets are at the top of the list of must-haves.
Rock stars, athletes, and celebrities drive the trend, sporting jewel-draped bands or stacks of bling and bangles. But Coraçao Jewelry offers quality fashion jewelry for men who want to look their best without overdoing it. "Guys are clearly intrigued by jewelry and are turning to accessories to make a fashion statement. But not everyone wants to rock an armload of stone and steel. Many men are looking for more subtle pieces that express their style. They want to stand out from the crowd and be noted for their fashion sense without going over the top," says Coraçao cofounder Ed LaPlante.
Coraçao's gemstone wristbands and leather bands with sterling silver accents can go from casual to dressy and are understated enough to wear with a suit, adding just a hint of shine under the cuffs. Bolder bands of earthy stone take evening and weekend style to another level. At prices ranging from about $18 to $100, this handmade jewelry offers the added value of long wear, with quality and style that will endure through the years. Also perfect for Father's Day gifts, Coraçao offers custom jewelry for men that can carry initials, a name, or a personal message.
About Coraçao Jewelry
Coraçao is the Portuguese word for heart. Founded in 2012, Coraçao Jewelry is a family business that creates handcrafted jewelry for men and women of all ages as well as personalized jewelry that celebrates relationships, often incorporating a heart as a design motif. A socially responsible company, Coraçao Jewelry donates a percentage of profits to initiatives that support heart health.
For more information, visit http://www.coracaojewelry.com, visit us on Facebook, or follow us on Twitter.