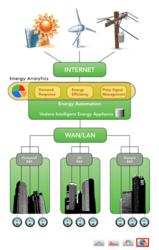 Automating demand response through Vedero Software allowed us to confidently commit to shedding a significant amount of electrical load quickly
Plano, TX / Arlington, TX (PRWEB) May 24, 2012
Vedero Software announces a new agreement with The University of Texas at Arlington to automatically reduce energy usage during emergency events on the Texas electric grid. Beyond economic benefits to the University, this program improves reliability of the Texas electric grid during power shortages and defers or avoids the costly build out of additional electrical capacity needed to deal with peak periods.
The UT Arlington campus spans 420 acres and includes more than 100 buildings. The University has added 1.2 million square feet of learning environment over the past five years through the construction or renovation of more than a dozen buildings. UT Arlington will participate in demand response programs such as ERCOT's Emergency Response Service (ERS) using Vedero Software by automatically curtailing energy in response to electric grid emergencies.
ERCOT, or the Energy Reliability Council of Texas, offers users financial incentives to reduce load on the state's electrical grid through a program designed to limit rolling blackouts. By committing to reduce electric load during emergency situations, the University is providing immediate relief to the grid as a clean alternative to running stand-by power generators as well as helping to reduce the need for more power plants.
Participating in emergency demand response programs like ERS requires the University to reduce electricity consumption within 10 minutes in the event of a potential power shortage. Quickly reducing consumption in a way that is non-disruptive to students and faculty in the 100+ buildings across the campus was imperative.
"Automating demand response through Vedero Software allowed us to confidently commit to shedding a significant amount of electrical load quickly while ensuring that research buildings remained unaffected and students and faculty remain comfortable," said John Hall, UT Arlington's vice president for administration and campus operations. "We're pleased that we can embrace a green program that helps the community and generates revenue for the University."
Joe Pollard, CEO of Vedero Software called UT Arlington "a visionary and progressive institution."
"We are happy to welcome UT Arlington as a significant customer," Pollard said.
Vedero Software provides a robust platform that ensures maximization of demand response events, while maintaining occupant comfort through existing Building Automation Systems.
About The University of Texas at Arlington
The University of Texas at Arlington is a comprehensive research institution of nearly 33,500 students in the heart of North Texas and the second largest member of The University of Texas System. Research activity has more than tripled to $66 million over the past 10 years, with UT Arlington's expertise increasing in bioengineering, medical diagnostics, micro-manufacturing, and defense and Homeland Security technologies, among other areas. With a growing number of campus residents, UT Arlington has become a first-choice university for students seeking a vibrant college experience. Visit http://www.uta.edu to learn more.
About Vedero Software
Vedero Software provides software and services to instrument and automate commercial buildings for energy efficiency. Our automated energy management solutions help grid operators supplement, avoid or defer costly investments in generation, transmission and distribution facilities and enhance the reliability of electric power. Our solutions are used by large commercial organizations to automate demand response events in conjunction with their energy provider, and meet their sustainability goals. Visit us at http://www.vederosoft.com.