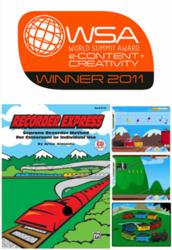 We are absolutely thrilled to be a part of yet another means to make learning and practicing music both fun and interactive.
- Andrew Surmani, SVP of School & Church Publishing.
Los Angeles, CA (PRWEB) May 23, 2012
Alfred Music Publishing, the world's largest educational print music publisher since 1922, congratulates JoyTunes, world-renown publisher of educational music games, for winning the United Nations World Summit Award (WSA) in the "e-Entertainment and Games" category for best practice in e-Content and innovative ICT applications. The WSA honor follows a recent educator-voted award for the JoyTunes/Alfred Music Publishing Recorder Express Game title: Music Education Days' "Best Tools for Schools" award, Best Teaching Tool for Young/Elementary Students category, at the 2012 Winter NAMM Show in Anaheim, California.
Together with some of the world's best e-Content producers, JoyTunes received the prestigious honor on April 27, at the Cairo ICT Trade Fair. JoyTunes was selected by jury of ICT experts in Hong Kong from 460 projects and 105 countries that were submitted by regional experts.
"Alfred is proud to work with innovative companies like JoyTunes to help people experience the joy of making music," shared Andrew Surmani, SVP of School & Church Publishing. "We are absolutely thrilled to be a part of yet another means to make learning and practicing music both fun and interactive. Congratulations to Yuval and his brilliant team on this tremendous award recognition."
"We are deeply honored by the WSA organization recognition," expressed JoyTunes CEO Yuval Kaminka. "It's great to be recognized for our work and our mission in music education: Learn music through online interactive games in the most natural way there is—using your own instrument." JoyTunes has developed award-winning interactive video games that help children and adults alike, discover their love of music. An elite team of developers, musicians, and music educators created the unique patent-pending technology that lets music lovers worldwide create and enjoy playing real music with a real instrument.
"With the winners from World Summit Award in e-Content, Cairo hosted the best digital producers, interaction designers, and content developers from all around the world. They demonstrated the richness and diversity of the content industries. Cairo is a special stage to highlight what can be done with modern ICT to develop local communities, national social strategies and meaningful jobs," says WSA Chairman Peter A. Bruck. The WSA Winners' Events was hosted in the Middle East for the first time ever.
The winners were decided on by a Jury of ICT experts coming from all continents. Each UN Member State only nominates one product per category for the World Summit Award. Hence nominations resulted from national pre-selection awards prior to the international WSA Jury in Hong Kong in June 2011. Hosted by the Information Technology Industry Development Agency (ITIDA) and Cairo ICT under the patronage of H.E. Mohamed Salem, Egypt Minister of Communications and Information Technology, the WSA winners showcased the best digital e-Content projects worldwide.
ABOUT JOYTUNES
JoyTunes solves a problem for 85% of the population who "wished they had learned to play an instrument" but never got past the frustrating first steps of learning to play. We develop interactive video games controlled by regular instruments, helping children and adults to learn to play real music on real instruments. Our unique patent-pending technology dramatically increases the motivation to practice and shortens the learning process for millions of music lovers. Visit http://www.joytunes.com.
ABOUT WSA
The World Summit Award (WSA) is the global follow-up initiative of the United Nations World Summit on Information Society (WSIS) organized by the International Center for New Media (ICNM), Salzburg, Austria. It partners with the key UN organizations and agencies in the framework of the UN Geneva Agenda and the Tunis Action Plan and selects and promotes the world's best e-Content and innovative ICT applications; to date more than 160 countries are actively involved. Through national pre-selections and contests together with a global jury process, WSA demonstrates the local diversity and rich creativity of ICT use. WSA is a global hub for everyone who values the crucial importance of local content to make today's information society more inclusive. Visit http://www.wsis-award.org or http://acebook.com/WorldSummitAward.
ABOUT ALFRED MUSIC PUBLISHING
Alfred Music Publishing is the world's largest educational music publisher. Alfred produces educational, reference, pop, and performance materials for teachers, students, professionals, and hobbyists spanning every musical instrument, style, and difficulty level. Alfred's home office is located in Los Angeles, with domestic offices in Miami and New York as well as offices around the world including Australia, Germany, Singapore, and the United Kingdom.
Since 1922, Alfred Music Publishing has been dedicated to helping people learn, teach, and play music. Alfred currently has over 90,000 active titles. Alfred represents a wide range of well-known publications—from methods like Alfred's Basic Guitar, Alfred's Basic Piano Library, Premier Piano Course, Sound Innovations, and Suzuki, to artists like Led Zeppelin, The Rolling Stones, Bruce Springsteen, Van Halen, Green Day, Michael Jackson, Sheryl Crow, Eagles, Cole Porter, and George and Ira Gershwin, to brands like Star Wars, Harry Potter, Lord of the Rings, Rolling Stone Magazine, and Billboard.
In addition to its own titles, Alfred distributes products from over 50 companies, including Belwin, Daisy Rock Girl Guitars, Dover Publications, DW Drums, Faber Music, Highland/Etling, Kalmus, National Guitar Workshop, Penguin, TASCAM, Ultimate Support, and WEA. Visit http://www.alfred.com.