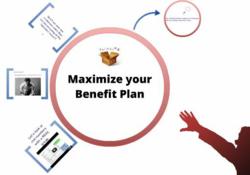 (PRWEB) May 30, 2012
Announcing a new twist on an old strategy… Benefit Houdini puts "affordable" back in employee benefits.
Question: How many customers are clinging to a dated concept of "Great" benefits by paying for their employees to have a low deductible-high benefit health plan, yet none of the employee families can afford to be on it? In other words, how many customers are throwing money away on expensive benefit plans that in the end cost too much and are not appreciated?
Answer: Too many!
There are some fantastic products entering the market place today that, when coupled with Congress's recent Medical Loss Ratio (MLR) mandate can have a tremendous effect on the bottom line while maintaining high benefit levels. More importantly, these plans can be structured within the "affordability reach" of most employee families which helps everyone by bringing on the young and healthy to the plan.
How can this be you ask? There is a new twist on an old proven strategy demonstrated by proposal companies like http://www.benefithoudini.com where they utilize the money saving aspects of self funding while employing the use of a fully insured ultra high deductible group health plan as the "Umbrella" coverage to mitigate risk for the employer and the group. The interesting thing is that the gap between the base plan delivered to the employees and the fully insured HDHP that covers the group as the "Umbrella" is covered in large part by savings in premium alone and no "Laser" risks have to be endured by the employer.
Here is where it gets interesting. Before, when the year was done, a typical employer offering health benefits had 100% of the money budgeted toward health benefits spent... spent as premiums to be exact. With the Benefit Houdini Strategy there may very well be thousands if not tens of thousands of dollars left unspent in a Health Reimbursement Arrangement (HRA) account that belongs to the business and can be carried forward to cover future risk, costs or both. Think of it as a "Group HSA" if you will.
And even better, because the group health plan was an ultra high-HDHP (Typically $10K works best), most claims toward the umbrella plan deductible were never paid out by the insurance carrier. (One national carrier has shared that over 90% of claims are less than $3500.) To be specific, these types of accounts tend to be cash cows for the insurance carrier and renewals in many cases will trend better than a traditional type plan (even though the employees have actually enjoyed a high benefit traditional plan type). With 80 cents of every premium dollar mandated to go to pay claims on groups under 100 employees in size, and the carriers not paying very many claims, based solely on the statistics they have to trend better.
Here is some of the magic alluded to in the title: As far as the carrier is concerned, they applied deductible credit to 100% of the costs (obviously the legal jargon applies, in-network, preauthorized, etc.) yet had very little man-hours involved in dealing with claim payouts and such. A good Third Party Administrator (TPA) handles these issues and provides a second layer of customer service as well.
These proposals can be very complex to create and difficult to explain. Proposal companies like http://www.benefithoudini.com can do these tasks for the broker for free and help them bring viable solutions to their customers. This will close more business.
The business model is interesting. The proposal company will help set up the TPA relationship (If one is not already in place) and piggyback a group customer admin fee collected by the TPA.
No Commission Splits, no bills to pay and close more business…. No wonder they think what they do is magic.
Michael J. Meyer
Founder, Benefit Houdini
http://www.benefithoudini.com
Twitter: @benefithoudini
FB: http://www.facebook.com/benefithoudini