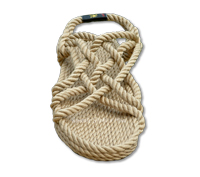 the "official, unofficial footwear of Bonnaroo"
(PRWEB) May 24, 2012
Nomadic State of Mind, the grassroots sandal company that specializes in handmade footwear, is gearing up for another year at the annual four day music festival, Bonnaroo. The crew at Nomadic State will be enjoying the people and the music (it's all about the music) and as always there will be good times and fun games going on in both of the stores they will have set up. Again this year, their main store can be found near the well known Centeroo fountain and they will have another along Shakedown, aka 3rd and 3rd.
Each year the company brings a wide variety of their handmade rope sandals to the event, with color and style options that are also available on their website, but they also bring limited edition sandals that are made specifically for Bonnaroo - and find feet very quickly. Many Nomadic fans can be found sporting Bonnaroo specials from years past and anyone who has been to the festival can attest to the fact that Nomadic State of Mind sandals are the "official, unofficial footwear of Bonnaroo". The sandals are perfect for festival wear due to the fact that they are easy to travel with, super lightweight, and because they are machine washable and salt water and chlorine resistant. So, no matter how much mud is flung the sandals can be easily cleaned and come out looking brand new and ready for several more years of wear. The vegan friendly sandals are durable, but most important to many seasoned festival veterans, is that they are comfortable and known for not causing any blisters - no matter how much dancing and walking the weekend may bring. So boogy woogie on your shoes.
Bonnaroo is the music festival of music festivals. It will take place in Manchester, TN from June 7 - 10 and will feature bands such as Phish, Radiohead, Red Hot Chili Peppers and many, many more. The Nomadic Family will be there to ensure that each person may have some happy feet!!
About Nomadic State of Mind
Nomadic State of Mind was founded nearly ten years ago and is based in North Carolina. Manufacturing takes place both in Florida and in Nicaragua where the company has helped support a small community for the past eight years. Nomadic has always believed in positive contributions to the world around them and is committed to remaining true to their roots. For more information or additional art work please contact Chris Anderson or Shea McNally at 877-666-2376 or http://www.nomadicstate.com.