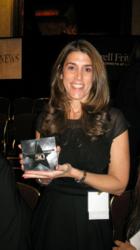 Westchester, NY (PRWEB) May 23, 2012
Leslie H. Tayne, a renowned debt resolution attorney with offices in White Plains, Mount Kisco, and Melville, N.Y., was recently honored as one of fifty most influential women in business by Long Island Business News. Launched in 2000, the program was created to recognize the Island's top women professionals for business acumen, mentoring, and community involvement.
Tayne and her fellow honorees were selected by a judging committee and received their awards at a celebratory dinner attended by more than 700 of Long Island's top business leaders. The event was held at Crest Hollow Country Club in Woodbury, N.Y.
"I feel privileged to have my professional achievements and philanthropic efforts recognized by such an esteemed group of individuals, and to stand alongside these extraordinary women," Tayne said of her award. "My passion for helping others is what has helped me to succeed. I'm fully committed to serving the best interest of my clients and my communities for as long as I'm able."
Tayne began practicing law after receiving her Juris Doctor from Touro Law School in 1997. She started her career working at the Nassau County Legal Aid Society as a Staff Attorney. From there she went on to work at a national debt settlement, consolidation, and debt reduction company where she acted as the Chief In-house Counsel overseeing debt resolution for thousands of individuals. In 2001 she founded The Law Offices of Leslie H. Tayne in Melville, N.Y. She received Long Island Business News' Leadership in Law Award in 2011, which honored Tayne for her dedication to excellence and leadership in both her legal profession and community.
Additionally, Tayne is the Vice President of Work and Family Committee for Long Island Women's Association, and is a puppy raiser for the Guide Dog Foundation of Smithtown. She is also a volunteer debt counselor for Family Services League providing pro bono debt resolution.
About The Law Offices of Leslie H. Tayne
Based in Melville, N.Y., the Law Offices of Leslie H. Tayne is the only New York State practice whose sole concentration is consumer debt resolution and bankruptcy avoidance. Founded in 2001, the company has expanded into Westchester County with offices in White Plains and Mount Kisco, N.Y. On average, the firm is able to settle debts for 30 to 42 percent of what is owed, and can handle any amount of debt over $5,000. Tayne, who previously served as the chief in-house counsel of a national financial company, where she oversaw the resolution of hundreds of thousands of dollars in unsecured debts, attended Touro Law School, where she was a member of the Moot Court Board. A mother of three, Tayne is also associated with the Westchester County Bar Association, the Suffolk County Women's Bar Association, Nassau County Bar Association and the Melville Chamber of Commerce, among many other groups. Visit The Law Offices of Leslie H. Tayne online at http://www.attorney-newyork.com or call Toll-free at 866-890-7337.
Press Contact
Barbara Wollenberg
Co-Communications
914-666-0066
barbara(at)cocommunications(dot)com