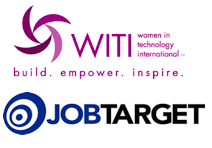 Santa Clara, CA (PRWEB) May 23, 2012
WITI (Women in Technology International) announced today the WITI Career Fair, powered by JobTarget, to take place at the Marriott Santa Clara on the final day of the Annual Women Powering Technology Summit, Tuesday, June 5, 2012 from 2pm-6pm.
The Career Fair is a free event and open to candidates with a strong IT background. Career Fair attendees have a unique opportunity to meet participating companies such as AT&T, Amazon, BMC Software, Comcast Cable, Life Technologies, Microsoft, Salesforce.com and T-Mobile, while also having access to the Tuesday afternoon WITI Summit sessions.
The companies participating in the WITI Career Fair, powered by JobTarget, have partnered with WITI to source Silicon Valley's best candidates. This is a must attend event for all candidates researching career opportunities and interested in making personal connections with an exceptional selection of quality companies, who have job openings now.
To register for the WITI Career Fair powered by JobTarget, please visit witi.com/careerfair and select the Expo and Career Fair option. Attendees can get a jump on the competition by submitting resumes directly to employers by using WITI4Hire.com.
About WITI
WITI is the world's leading trade association for professional, tech-savvy women committed to using technology, resources and connections to advance women worldwide. With a global network of exceptionally successful women leaders, WITI has established powerful strategic alliances and programs to provide resources, and opportunities within a supportive environment of women committed to helping each other succeed. WITI's mission is to empower women worldwide to achieve unimagined possibilities and transformations through technology, leadership and economic prosperity. For more information, please visit witi.com. Follow @WITI on Twitter. Like WomenInTech on Facebook. Add WITI on G+. Active WITI members can also join the WITI LinkedIn Group.
About JobTarget
JobTarget makes the complex processes of finding jobs and recruiting talent more efficient with technology that powers job websites and career centers, and technology that helps employers advertise jobs where they will attract the most qualified talent. Nearly fifteen hundred organizations, including professional and trade associations, publishers, world-class companies and entrepreneurs, rely on JobTarget's best-in-class technology, generous economics and unmatched service and expertise, to power their career centers. Thousands of employers, recruitment firms and recruitment ad agencies use JobTarget to quickly find new sources of job candidates, post their jobs in front of them, and accurately measure the results to improve recruitment advertising effectiveness. For more information, visit http://www.jobtarget.com.