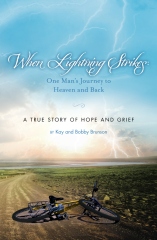 "I have always been skeptical about out of body experiences or near death experiences. After reading "When Lightning Strikes: One Man's Journey to Heaven and Back" by Kay and Bobby Brunson, I changed my mind." – An Amazon.com reader
Charleston, South Carolina (PRWEB) May 25, 2012
Imagine being struck by lightning and being considered dead for 28 minutes, only to return to your life with a stunning glimpse of the hereafter. Bobby Brunson says he did and lived to tell his story in "When Lightning Strikes: One Man's Journey to Heaven and Back - A True Story of Hope and Grief" (ISBN1450555721), a book he wrote with Kay Brunson, his wife of 46 years. This is one of the few books ever featured on the Christian based political activism website. In December 2011, the Christian Coalition chose Kay and Bobby's miracle story as a feature.
Bobby recounts an out-of -body experience after being struck by lightning. His heart stopped beating for nearly a half-hour during full cardiac arrest. When he regained consciousness, he remembered the wonders of heaven and an unimaginable peace. The story describes Bobby's walk along golden streets, his talk with his deceased father and an interaction with Jesus Christ.
Bobby's love for sharing his trip to Heaven with others has inspired those who have heard him speak on the life-altering trip. The author presents a simple message to his readers: God loves us all the same, don't sweat the small stuff and live life in a way to make Heaven your ultimate home.
"I have watched as Bobby has talked with people and witnessed their enthusiasm to talk with a man who talked with Jesus," wife Kay says. "His story never fails to touch them, and it won't fail to touch you."
Brunson's story is one of hope for the terminally ill, a message of peace for those whose loved ones have passed and a glimpse into what heaven holds for each of us.
"When Lightning Strikes: One Man's Journey to Heaven and Back - A True Story of Hope and Grief" is available for sale online at Amazon, Barnes & Noble, Books A Million, Create Space and many other channels.
About the Author:
Bobby served as a conductor on the railroad for 23 years. Kay's background is small business owner. In 1988 they helped establish a church in the Charleston area where they still attend. They have two adult married children and three very "grand" grandchildren.
MEDIA CONTACT:
Kay and Bobby Brunson
Email: kayandbobbybrunson(at)gmail.com
website: http://www.isheavenreal.net
REVIEW COPIES AND INTERVIEWS AVAILABLE