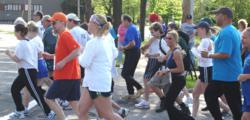 Toledo, OH (PRWEB) May 24, 2012
The OWE/Toledo Symphony 5k Stampede kicks off the second day of festival weekend Sunday morning at 9am. You start and finish this certified 5k race with the world famous Toledo Museum of Art as your backdrop. The run/walk has grown each year in popularity with the regional running community. The 5k winds its way through the historic tree-lined streets of Toledo's Old West End Neighborhood while having the Toledo Symphony Orchestra's performers play from the front porches of the wonderful homes along the route. Enjoy the run, enjoy the neighborhood and enjoy the festival after the race is over.
Date/Time:
Sunday, June 3, 2012
Registration begins at 7:30 a.m.
5k Race & Walk begins at 9:00 a.m. Rain or shine.
Registration/Fees:
Forms are currently available on our website.

Preregister by May 21, 2012 and receive a Stampede t-shirt
12 years & under: $12, 13 years and up: $20
Received AFTER May 21, 2012, or race day entry:
12 years & under $15, 13 & up: $25
Location:
Old West End, Toledo. Race begins in front of the Professional Building at the corner of Parkwood and Monroe (1838 Parkwood).
Parking:
Free parking is available in the Toledo Museum of Art Parking Lot located at Oakwood Ave. off Collingwood close to the University of Toledo Center for Visual Arts (East end of the main museum complex).
Course:
The course is certified and pre-set, and will be managed by the Toledo Road Runners Club. USATF certified (OH 04017 PR). Paved and fast, electronic timing, splits and 1 & 2 miles.
Live music marks the course!
Age Groups:
Male and female divisions in each of the following categories:
14 and under; 15-19; 20-24; 25-29; 30-34; 35-39; 40-44; 45-49; 50-54; 55-59; 60-64; 65-69; 70 & over
Race Awards:
A pair of 2012-2013 Toledo Symphony Classics Series Subscriptions for each overall male and female winner UNDER 40, and for each overall male and female winner 40 AND OVER; a pair of tickets to a 2012-2013 Toledo Symphony concert for the first three runners in each age group/gender category. Walkers & runners must be present to win!
Entry Form:
Please download, print, sign and detach the form, noting mailing deadlines, and mail a check with check or money order made out to the Toledo Symphony. Return to:
OWE Toledo Symphony Stampede
P.O. Box 20146
Toledo, Ohio 43610
For additional information, contact Michelle Keller, at 419-418-0049 or visit our website at http://www.toledosymphony.com.
Sorry, No Refunds