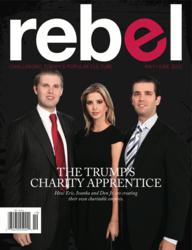 "We each represent the
family business and brand, and that puts us in the spotlight," said Eric Trump, "I don't want to be in the spotlight. I'm the last person you'll ever find dancing on a table at a club. We don't do that. We work too hard."
Scottsdale, AZ (PRWEB) May 30, 2012
The May/June issue of Rebel Magazine, featuring a cover story on Ivanka Trump and the charitable initiatives of the "next generation," of the Trump family, is now available via the magazine's recently launched iPad app. Rebel's app offers a digitally immersive experience for readers interested in "living the story, rather than just reading about it." The award-winning magazine, now in its second year, focuses on social causes, and on providing a forum for men to redefine "success." Rebel is challenging standard publishing pricing with a compelling 99¢ per issue cost.
The May/June edition of Rebel Magazine is the second issue of the magazine to be featured in an iPad compatible format. The issue's cover story is titled, The Trump's Charity Apprentice: How Eric, Ivanka, and Don Jr. are Creating Their Own Charitable Empires. The iPad edition of the article includes a link to Ivanka Trump's Twitter account, and links to the "Girl Up," website, the United Nations' supported program that she supports.
The Twitter connection is also central to the magazine's "Women on Men" feature, as E! News correspondent Ashlan Gorse's comments on women in the workplace are augmented with a live RSS feed of her Tweets. Rebel's "Plugged in" column looks at eBay's new eBay Celebrity feature, in which stars specify charitable causes that will be supported with the purchase of selected eBay memorabilia. The iPad edition links directly to this powerful eBay feature.
Rebel's "Small Screen" column profiles the AMC series "Breaking Bad," and includes a striking video teaser for the upcoming Season Five, as well as links to free pilot episodes available on iTunes, and Twitter and Facebook links to the series page and AMC.
The magazine's award-winning series, "Rebel with a Cause," highlights Anthony "Doc" Ameen, former Marine Corpsman and founder of Wings for Warriors. The iPad edition features an expanded high definition photo gallery that looks stunning with the new iPad' s retina display as well as an embedded video of Ameen's appearance on Last Call with Carson.
Rebel donates a minimum of 20% of its ad space to deserving non-profit organizations and has insured that even the issue's advertising is interactive and immersive. An ad for the non-profit Drawing Dreams, for instance, highlights a digital art gallery of art created by and for hospitalized kids. Readers who want to get more involved in social causes may wish to check out Rebel's Get Involved feature, which highlights the new Cause.it app – and a link to download the app itself.
The Rebel Magazine iPad app is available on the iTunes App Store by searching "Rebel Magazine," or via: http://itunes.apple.com/us/app/rebel-magazine-for-ipad/id522161209?mt=8
About Rebel
Rebel is the revolutionary new magazine that inspires men to redefine and reprioritize their values, relationships and responsibility to society. It gives a voice to those who think and act differently for the greater good and invites readers to join Rebel's own movement to impact important causes. The magazine made its debut in August 2010 and donates 20% of advertising space to charitable organizations worldwide. It dedicates several features in each issue to cause-related initiatives and owns a bus that travels, filled with volunteers, to communities in need. http://www.rebelmagazine.com