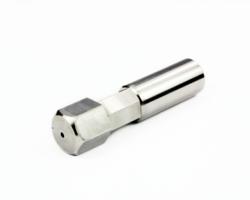 St. Paul, MN (PRWEB) May 24, 2012
Minneapolis, MN (January 30, 2012) - AccuStream, the world's largest waterjet replacement parts manufacturer, has released another innovative solution, DiaLine Water Only Conversion Kit, which significantly decreases downtime when switching from abrasive cutting to water only cutting. This innovation makes it possible to seamlessly switch between abrasive cutting to pure water cutting in less than 3 minutes.
Whether you have one waterjet cutting system or multiple with a portion dedicated to water only and the rest to abrasive cutting, this product will make conversion seamless. With the DiaLine Water Only Conversion Kit shops do not have to dedicate a system to a specific type of cutting making it possible to take on more diverse jobs and switch between them faster.
"We promise value and are always looking for new ways to save our customers money," says Eric Chalmers, President at AccuStream. "This product is yet another way to deliver on that promise."
About AccuStream
AccuStream is the largest waterjet parts manufacturer in the world; manufacturing a complete line of high pressure parts for every major brand of waterjet equipment. All parts and products are built to our exacting standard delivering performance that meets our high standards rather than industry exceptions.