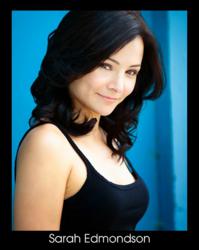 Sarah is passionate about acting, health, and personal growth.
(PRWEB) May 24, 2012
Sunwarrior, a company located in Southern Nevada that creates raw, plant-based supplements on an international scale, announced today that Sarah Edmondson has joined their ambassador team.
"Sarah Edmondson is a wonderful actress and humanitarian who also happens to be a fan of raw food," said Russ Crosby, Operating Manager of Sunwarrior. "This makes her a wonderful ambassador for Sunwarrior. Sarah is passionate about acting, health, and personal growth. She's also a very fun and charismatic person, obvious from her roles on shows like Psych and Fringe. We look forward to seeing her career continue to grow and we are excited to work with her."
Sunwarrior seeks out leading professionals, experts, and authorities in the health, fitness, and nutrition fields, including athletes, nutritionists, chefs, and more to perform as ambassadors for the Sunwarrior products and the Sunwarrior mission to illuminate body, mind, and planet.
About Sarah Edmondson
With a versatile career spanning film, television, theatre, and voice, Vancouver-based actress Sarah Edmondson continues to explore and cultivate a path into the creative unknown.
On the independent feature film front, Sarah can be seen in Blaine Thurier's critically acclaimed A Gun to the Head, which premiered at the 2009 Toronto International Film Festival. In the movie, Sarah steps into the role of a psychopathic criminal groupie with a taste for torture. This comes on the heels of Sarah's Leo Award-nominated comic roles in Awkward which screened at The Just For Laughs International Comedy Festival, and Sparklelite Motel in which Sarah plays a thwarted newlywed.
On television, catch Sarah as Brooke Barton in Lifetime's adaptation of Killer Hair and Hostile Makeover. As well, Sarah has had a recurring role on USA's Psych as Shawn's crazy ex-girlfriend Gina. She can also be seen as Ava , a sassy rock n' roll bartender in LMN's Seduced by Lies.
On the voiceover side of her career, Sarah can be heard in national radio spots and she plays Thea on the popular cartoon Geronimo Stilton. The series centers around a family of crime-solving mice, a change of pace from Sarah's other animation series, Transformers Cybertron and Class of the Titans. She recently booked two new animation projects, but the details are hushed for the moment.
Sarah is also dedicated uplifting humanity. She started Ethical Arts Ltd, a company dedicated to developing programs and projects which uphold compassion, humanity, and ethics in the world. The goal is to create hubs of creative energy; centers where people come together to evolve themselves, their projects, and thereby humanity.
About Sunwarrior
Sunwarrior was born on a warm Arizona evening in 2008 during the Sedona Raw Spirit Festival. Three different men with three different dreams met with one desire, to create a company and a product that benefit mankind and the planet mankind occupies.
The three men combined their dreams, their savvy business personalities, and their environmental consciousness to create Sunwarrior, a company committed to making the best plant-based products while elevating humanity and preserving the planet.
Sunwarrior creates healthy, raw, plant-based protein powder, supergreens and mineral supplements perfect for anyone and any lifestyle, not just vegetarians and vegans.
For more information about Sarah Edmondson visit http://www.sarahedmondson.com or her facebook page. For more information about Sunwarrior visit http://www.sunwarrior.com.