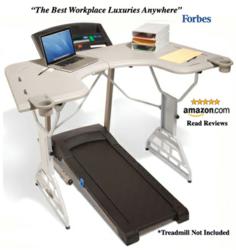 Sedentary time whether in a car or in an office is placing our nation's health at risk.
Scottsdale, AZ (PRWEB) May 23, 2012
Moving to the suburbs to escape the stress of urban living and improve the quality of life may need to re-evaluated according to a new study on commuting from Washington University, St. Louis. Researchers found that people commuting 10 miles or more to work were at great risk to suffer from high blood pressure, weight gain and poor health due to longer periods of inactivity and lower amounts of exercise during the day. TrekDesk treadmill desk offers a unique solution to the problem.
Washington University's commuting study focused on 4,300 commuters analyzing the effects of commuting on health. "The main finding is that the study was the first to show that long commutes can take away from exercise and are associated with higher weight, lower fitness levels and higher blood pressure, and all of these are strong predictors of cardiovascular disease, diabetes and some cancers," stated Christine Hoehner, lead researcher at Washington University, in an interview.
While the study found adverse health effects starting at 10 mile commutes U.S. census analysis places the average commute at 20-25 minutes in America. About 3.5 million Americans commute a total of 180 minutes. Labeled "extreme commuters" their population has doubled in the past twenty years. The average commute in the University of Washington study was only 12 miles. However, at 10 miles commuting posed a risk of higher blood pressure. At 15 miles commuting posed an added risk of obesity regardless of a commuters age.
"For folks that live a long way from work they need to find ways to build physical activity into their day," stated Hoehner.
Last year researchers at Umea University of Sweden released additional findings of negative social and health consequences of commuting. Among couples with one partner with a 45 minute commute the divorce rate was 40% higher than the general population. In addition to the health risks found in the University of Washington study the Swedes found commuting caused recurrent neck and back problems as well.
When researchers at the University of California (LA & Long Beach) looked at the link between obesity and lifestyle factors they found commuting had a stronger correlation than any other factor.
"Sedentary time whether in a car or in an office is placing our nation's health at risk," stated Steve Bordley, CEO of TrekDesk Treadmill Desk. "A body at rest tends to stay at rest, we just need to come up with more opportunities for daily movement to counteract the environmental challenges we face."
Designed to fit any existing treadmill, TrekDesk treadmill desk is an affordable, full sized, height adjustable workstation that allows individuals the opportunity to gain the necessary amount of exercise daily to maintain health, prevent disease, strengthen muscles, boost mood and productivity, without requiring additional time during the day or extra motivation. Wondering how to workout at work? TrekDesk offers the solution.
TrekDesk is currently available for sale online at http://www.trekdesk.com.
Join the TrekDesk "Movement Revolution" to learn more, win a free TrekDesk or ask any health related questions anytime at http://www.facebook.com/trekdesk, or follow TrekDesk on twitter http://www.twitter.com/trekdesk.