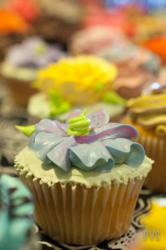 Tickets for the event are $60 for general admission and $100 for VIP access, both of which include tastes of delightful dishes prepared by the top restaurant chefs in the city, along with numerous beverages.
Jacksonville, FL (PRWEB) May 24, 2012
Ready. Set. FOODFIGHT!
Fine food and spirits will abound – along with a festive battle for best culinary presentation – on Thursday, June 7, when the 22nd Annual Jacksonville FOODFIGHT™ takes place at EverBank Field's Touchdown Club East.
This year's event will bring together more than 60 of the First Coast's finest restaurants, caterers and beverage wholesalers for a friendly competition where partygoers prove to be the biggest winners. The event has raised more than $1 million to help fight hunger in Jacksonville over the last 20 years and hopes to raise at least $100,000 in 2012 - with all proceeds benefiting Second Harvest North Florida.
"Doing a good thing and having a good time is truly the theme of this great event," said Eddie Fink, chairman of the FOODFIGHT committee, which coordinates the event. "That goes for all who participate – vendors, volunteers and guests. The restaurants and beverage distributors do an incredible job knowing that 100 percent of the proceeds from the event go to Second Harvest to aid in the fight against hunger and food insecurity in our community."
Tickets for the event are $60 for general admission and $100 for VIP access, both of which include tastes of delightful dishes prepared by the top restaurant chefs in the city, along with numerous beverages and live entertainment. The VIP admission entitles partygoers to exclusive access to the Jaguar Suite level, which will feature an additional 20 restaurants and vendors. VIP access also comes with access to all restaurants on the second level from 6-6:30 p.m.; a private seating area available throughout the event; entry into a prize drawing for a variety of special items on the Jaguar Suites level, including a bicycle, hotel stays and tickets to special locations; and a commemorative FOODFIGHT wine glass.
A unique raffle will also be held that features the winner's choice of one of two exciting prizes – a new 2012 Yamaha V Star 950, provided in part by Beach Boulevard Motorsports, or $5,000 cash. Tickets for the raffle are $100, and only 300 tickets will be sold.
Fink said the event is the party of the year in Jacksonville – but most importantly it is a party for a great cause.
Demand for resources from Second Harvest increased by more than 150 percent in the last three years, and that increase has not slowed in 2012, according to Second Harvest Executive Director Bruce Ganger. The food bank is moving more than two million pounds of food per month through its warehouse on Jessie Street – the equivalent of nearly 1.7 million meals for people in need.
"People are reaching out for help," Ganger said. "We are answering the call for many of those individuals and families, but it is a challenge that grows each day. There are people in our community who are hurting – specifically children – and our role is to make sure they have the food resources they need to get back on their feet and move past these hard times. Events like the Jacksonville FOODFIGHT are critical in helping us to accomplish this work."
Food distribution at Second Harvest has steadily risen in recent years, from 6.62 million pounds in 2007, to 7.65 million in 2008, to 10.3 million in 2009 and 19.3 million pounds in 2010, to 20.1 million in 2011. Ganger said projections show Second Harvest distributing 24 million pounds in 2012.
For every $1 donated, Second Harvest is able to generate seven meals for people in need. If the FOODFIGHT achieves its goal of $100,000 it will allow the food bank to supply 700,000 meals for north Florida families in need.
The Jacksonville FOODFIGHT is one of the largest fundraisers of the year for Second Harvest North Florida.
To order tickets or purchase sponsorship packages, visit http://www.JacksonvilleFOODFIGHT.org or call 904.739.7074.
ABOUT SECOND HARVEST NORTH FLORIDA
Second Harvest North Florida is the oldest and largest program of Lutheran Social Services of Northeast Florida. LSS was founded in 1979 by area Lutherans and business leaders to fill gaps in services offered in the community for people in need. Second Harvest gathers food from local and national sources, shares these resources with more than 450 nonprofit organizations in 17 north Florida counties and helps thousands of people each year who are hungry or at risk of not having being able to provide food for themselves and their families. In addition to collecting and distributing food, Second Harvest serves children in after-school programs through its Kids Cafe and BackPack programs and in summer camps through its Summer Lunch program. It also takes Mobile Pantries filled with Family Boxes of food to people living in neighborhoods with the greatest needs. Call 904.730.8234 for more information about any of these programs and services.
RESOURCES
Jacksonville FOODFIGHT Home Page
Second Harvest North Florida Home Page