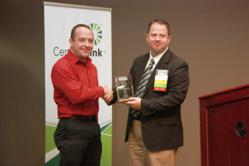 Tallahassee, FL (PRWEB) May 24, 2012
Although New Leaf Market was founded in 1974, long before sites like Facebook, Twitter, and Foursquare were household names, this Tallahassee natural foods cooperative isn't stuck in the past. At the 2012 TalTech Expo luncheon in May, the company found recognition for its stellar expansion into the world of social media by receiving this year's S.M.A.R.T.E.R award. Standing for Social Media Achieving Real Time Enriched Relations, this award signifies the comprehensive customer service and interaction New Leaf Market provides through social media platforms.
New Leaf Market's selection of locally grown and organic foods represents a significant involvement in the healthy eating habits of the community, and expanding this involvement into online communities is a logical step towards building a healthier future generation. By answering customer questions directly, a page for New Leaf Market on a social media platform like Facebook or Twitter reminds consumers of the human element of this small community business, builds support and gains customers through positive communication and customer service. A company that allows for easy contact through these networks presents an honest and accountable face to the world, and New Leaf Market's recognition through the SMARTER award serves as further assurance that this local business can be trusted to provide only the best in natural foods.
The strategies used by New Leaf Market to promote dialogue and interaction with their customers are varied and creative, ranging from personal anecdotes from customers about their experiences in the store to pictures of current menu specials in the deli. The presentation of multimedia, particularly appealing pictures of the fresh, organic produce the market is famous for, instantly demonstrate the record of quality in the products stocked by the business. Since receiving their award, New Leaf Market has only increased their customer interaction through social media, and this dedication combined with a passion for wholesome natural food ensures that New Leaf Market will satisfy customers for years to come.
About the company:
New Leaf Market, founded in 1974, is located at 1235 Apalachee Parkway in Tallahassee, Florida. They offer wholesome locally grown and produced organic foods including produce, grocery, frozen, refrigerated and health and body care products. The beer and wine department now includes 16 feet of chilled microbrews and over 300 types of organic wines. The deli menu has been expanded and includes panini sandwiches, rotisserie chickens, smoothies, espresso and breakfast, lunch and dinner items. A fresh meat and seafood department offers all-natural meat and fresh from Florida seafood. New Leaf Market educates the community about the products they sell. They consider it their contribution to a healthier future generation. For more information visit their website at http://www.newleafmarket.coop, "like" New Leaf on Facebook at https://www.facebook.com/NewLeafMarketCoop, and follow them on twitter at https://twitter.com/#!/NewLeafMarketTL.