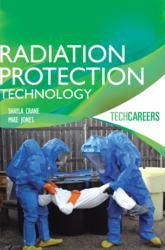 The daily interaction with patients, knowing I am helping them survive their disease, makes my day better...it makes my career worth everything.
--Osman Dongos,
Radiation Therapist
Waco, Texas (PRWEB) May 24, 2012
TechCareers: Radiation Protection Technology explains what it is like to be a radiation protection technologist. In an age where nuclear bombs and meltdowns are no longer science fiction, this career is in high demand and constantly evolving. Due to technological advancement, not only is the understanding of nuclear development changing, but so is the creation of new devices which will save lives and further advance science as well.
TechCareers: Radiation Protection Technology, TSTC Publishing's newest addition to its TechCareers series, offers an overview of the career, education and training requirements, job descriptions, salary ranges, tuition costs, sample degree plans and lists of schools offering various degrees in radiation protection related fields. The ebook is available now for $9.99, and the print edition will debut June 1 Both are available from all major book retailers, including Amazon and Barnes & Noble. The paperback book also is available from TSTC Publishing.
The book offers a list of job titles which one can find in the radiation protection technology field:

Nuclear medicine tech
Health physicist
Lab safety tech
Health physicist technician
Radiation safety officer
Biomedical researcher
Nuclear weapons physicist
Medical physicist
Environmental physicist
From employment outlook and educational requirements to information pertaining to the job availability of a radiation protection technologist, TechCareers: Radiation Protection Technology provides vital information any person interested in the field needs to know. For a preview of Radiation Protection Technology, click here.
The TechCareers Series is a joint effort of TSTC Publishing, the publishing arm of the Texas State Technical College System, and TSTC Forecasting. The series includes: Biomedical Equipment, Automotive Technicians, Avionics, Wind Energy, Computer Gaming Programmers & Artists, Welding Technology, Aviation Pilots and Graphic Design. The tenth book in the series, Aviation Maintenance, debuts in August.
Shayla Crane graduated from Baylor University in May 2012 with a Bachelor of Arts degree in English and a minor in creative writing. She works as the technical communicator at ARGO Data Resource Corporation in the Dallas/Fort Worth area. She worked as the senior technical writer at Nuclear Logistics, Inc., where she assisted engineers in writing reports, plans and manuals to distribute to their nuclear clients. Mike Jones is a freelance writer, editor and media producer in Waco, Texas. He is the author of two other TechCareers books, Graphics Design and Wind Energy.
Established in 2004 as the publishing arm of the Texas State Technical College System, TSTC Publishing offers faculty throughout the country the opportunity to initiate and participate in a variety of book development projects. TSTC Publishing projects now include such ancillary products as instructor guides, student workbooks, CD-ROMs, DVDs, ebooks and companion websites. In addition to offering editorial help and guidance to faculty, assistance also is available in the areas of materials production, distribution and sales.