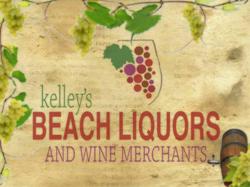 The Emerald Coast's Premier Wine and Spirits retailer
Destin, FL (PRWEB) May 24, 2012
Beach Liquors, a family owned and operated provider of fine wines, craft beers, and spirits throughout the Emerald Coast, is pleased to announce the opening of its newest store in Destin. With a tentative opening date set for early June, this location will be Beach Liquors' largest, and will feature an expanded selection of all their customers' favorites and future favorites.
Beach Liquors started its chain with the goal of providing a wide selection of spirits at competitively low prices. This new location will be the fourth store in the family, carrying on that original goal at an unprecedented size of 6,500 square feet. Owners Mike and Chuck Kelley intend to stock a larger selection of fine wines, craft beers, and spirits, along with the same friendly service that their customers have come to appreciate at other Beach Liquors locations.
The extensive selection of drinks aside, the Beach Liquors staff will also host an interactive series of workshops that they hope will entice both novices and connoisseurs alike. Beach Liquor's $5 Friday evening wine and beer tasting events host experts to guide guests in refining their palates. Participants will leave with an attuned ability to discern subtle differences in wines such as Merlot from Cabernet Sauvignon.
The Kelleys already affirm that their chain is "the Emerald Coast's premier wine and spirits retailer," and they reaffirm that resolve with this newest location's opening. Before the expanded establishment opens its doors in June however, Beach Liquors would like to invite current and potential customers to visit their website, where guests can browse the staff's wine and beer picks of the week. For those with a specific spirit or concoction in mind, the information on the website may prove an invaluable aid.
About the company:
Kelley's Beach Liquors and Wine Merchants is a family owned and operated chain of liquor stores on the Emerald Coast of Florida. Since 2000, Beach Liquors has served the Fort Walton Beach, Crestview, Destin, and Panama City Beach areas. Beach Liquors is known for their low prices, fine wines, craft beers and their $5 Friday evening wine and beer tasting events held at all their locations. For more information visit their website at http://beachliquors.net.