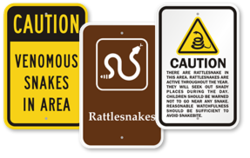 "Nobody likes a snake bite," said Daniel Male, manager of MySafetySign.com. "We want to be sure that if there are snakes around, people stay informed and safe."
Brooklyn, NY (PRWEB) May 24, 2012
MySafetySign.com, the premier online resource for safety signs, has released a new line of snake warning signs in an effort to reduce snake-related injuries. This durable series of signage will designate areas known to contain a significant quantity of venomous snakes, keeping unknowing passersby informed of potential snake-related hazards.
The American Academy of Family Physicians' website reports that over 8,000 injuries from venomous snakebites occur annually throughout the country. These bites most commonly occur between the months of April and October, when outdoor activity is most prevalent. The majority of North American snakes are not naturally aggressive, and snake-related fatalities are relatively uncommon, but a significant portion of venomous snake bites occur when these potentially hazardous reptiles are unintentionally provoked by younger children.
MySafetySign's collection of snake warning signs utilizes bright colors and universally recognizable graphics to communicate the presence of hazardous snakes. The signs range from simply yellow and black caution signs that denote "Venomous Snakes in Area" to more in-depth and informatory signs denoting particular areas that snakes inhabit and some of the reptiles' behavioral paradigms. For areas with strictly rattlesnakes present, an immediately identifiable rattlesnake graphic concisely communicates the presence of venomous hazards.
To most effectively promote safety against venomous snakes, the materials utilized in each snake warning sign are meant to augment visibility and concisely inform onlookers. MySafetySign employs durable 3M materials on reflective aluminum to ensure the signs are both long-lasting and visible at all hours of the day and night. This resilient composition outlasts other thin-gauge signs and won't rust, keeping readability at a maximum.
"Nobody likes a snake bite," said Daniel Male, manager of MySafetySign.com. "We want to be sure that if there are snakes around, people stay informed and safe." With this new series of signs, MySafetySign hopes to keep civilians educated about areas with a prevalence of venomous snakes and reduce snake-related injuries throughout the nation.
For more information about venomous snake-related signage and other safety signs, please visit http://www.mysafetysign.com/snake-warning-signs.aspx.
About MySafetySign.com
MySafetySign is the Web's largest store for safety signage. The company's mission is to make signs and labels as effective as possible in order to prevent accidents and save lives. Customers can choose from over 40,000 designs and customizable templates.
About SmartSign
SmartSign is one of America's fastest-growing e-commerce companies and parent of MySafetySign.com, MyParkingSign.com, as well as more than 50 other sites. The company manufactures and distributes a wide range of signs, tags, mats, and labels. In the past, many consumers have found it hard to find, hard to design and hard to order signs with the right message. By positioning "signs as solutions," SmartSign has taken an entirely different approach. Through highly targeted, content-rich, and authoritative retail sites, the company provides specific solutions to specific problems, such as customizing an asset tag. SmartSign is widely recognized for its quality construction; its signs come with a 3M® warranty and outlast fast-fading, ink-jet signs.