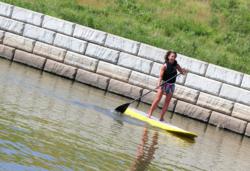 (Stand-up paddle-boarding) ... is a fun and economical way for people to get on the water; it's good exercise and it's just one of those things that's really happening. We think it should happen on the Illinois River, too. - Jeff Heimsoth
Ottawa, Illinois (PRWEB) May 24, 2012
The latest water sport trend — stand-up paddle-boarding — has moved into Starved Rock Country thanks to Quest Watersports.
Stand-up paddle-boarding is currently the fastest-growing water sport on the planet, and Quest aims to grow that popularity on the Illinois River, using the marina and resort setting at Heritage Harbor Ottawa as a launching point.
Stand-up paddle-boarding, also known as SUP, involves a flat-water surfboard that is typically nine to 12 feet long, with features such as padded decks and concave hulls; they are made to be stable in the water and generally have either one or three surfboard-style fins in the stern. A rider stands on the board and uses a paddle to navigate in the water.
"Riders can go anywhere there is water," said Jeff Heimsoth of Quest Watersports. "It's really a phenomenon in terms of how quickly the sport of stand-up paddle-boarding has taken off. They can't keep boards on the shelves in western Michigan, the Chicago suburbs and so forth. It just seems to be a fun and economical way for people to get on the water, it's good exercise and it's just one of those things that's really happening. We think it should happen on the Illinois River, too."
Anyone curious about SUP can test their skill at Quest. There will be live demos during the last weekend of June during Quest and Heritage Harbor Ottawa's Dock Days.
But Linda Johnson of Quest Watersports says the staff at Quest is happy to get potential paddle-boarders in the water anytime if they want to test a few boards, ask questions and get board recommendations. It's easy to learn.
"We do private demos all the time," Johnson said, adding that once someone tries stand-up paddle- boarding they usually want to get one for themselves. "I think a lot of time people expect it to be harder than it really is, but once they experience it, they find it's the complete opposite. It's good for them to try. Would you buy a car without test-driving it? You try it before you buy it."
During a sunny mid-May afternoon, La Salle, Ill., resident Vida Schwartz had a private demo session in the Heritage Harbor Ottawa marina on the Illinois River. Testing out a few boards, it didn't take her long to find a model that she felt the most comfortable with. Schwartz said she tried stand-up paddle-boarding once on Florida, where it is extremely popular, and was hooked — she had to jump on the trend once she was back in Illinois. For those concerned about the size of the board, Schwartz says don't worry. She handled the lightweight, 11-foot board with ease in and out of the water.
"We love having our boat here (in the marina), and now that I have the paddle board I can just come out and paddle-board around. It's so nice, because if I wanted to I could tie it up and lie out — all the girl stuff."
Quest Watersports offers boards for various experience-levels by Pau Hana Surf Supply, starting at $645 for a board and paddle package.
But it's also the Hobie Kayaks that have been growing in popularity in the water sports world.
Hobie Mirage kayaks have something special — pedals. Using a MirageDrive pedaling system, while sitting in the kayak the rider (or riders, as there are tandem models) pedals by stepping alternately left and right, not unlike an exercise stepper, to drive two underwater flippers. Pedaling, instead of paddling like a traditional kayak, is much faster and more efficient. Large leg muscles produce more powerful propulsion versus using arms in a paddled kayak.
"With the MirageDrive's pedaling system, you're hands are free, too," Johnson added. "So, people that want to take pictures, fish, hold a drink — their hands are free. It works out really, really well. Plus, some people either don't want to paddle or just don't have the strength in their arms, but find pedaling with their legs to be much easier."
The perks of the special design of seamless, roto-molded, torpedo-like Hobie Kayaks also include a quiet ride with no splash — perfect for relaxing or fishing. Plus, there aren't the costs associated with a traditional boat, such as fuel.
Johnson said Quest Watersports has found that the Hobie Kayaks are growing in popularity with those in the Boomer generation looking for a way to attain an outdoor or adventurous lifestyle. But they are extremely easy for kids to use, making them ideal for families with children, too. She said Quest's most popular kayak style is the Hobie Mirage Oasis, which is a two-person kayak.
Stand-up paddle-boarding and Hobie Kayaks both are picking up speed in the water sports world, and Heimsoth and Johnson don't see the trend slowing down anytime soon. Both are versatile, easy to learn and provide a great way to exercise— outside and on the water. Johnson says it's hard to not get on a board or kayak and love it. She says Quest will soon offer a stand-up paddle-board or kayak rental program.
"Everybody can do it, which is what makes it so cool," said Johnson.
For more information about paddle sport equipment and Quest Watersports, contact Linda Johnson at 815-433-2200.