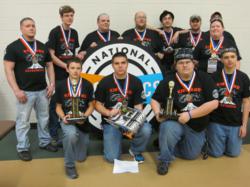 Mentor, OH (PRWEB) May 29, 2012
Roll-Kraft and a team of students from Kirtland High School recently participated in this year's RoboBot competition at Lakeland Community College in Kirtland, OH. The event was sponsored by Alliance for Working Together (AWT), a consortium working with the Auburn Career Center and local companies to promote careers in manufacturing.
The RoboBot competition has become an annual event. This year, 24 teams of students were matched with local manufacturing companies. Over a period of months, the students visited the companies each week. They designed, engineered, manufactured, and tested their robots, participating in every step of the process, guided by the expertise of the sponsoring company. The final culmination was the day that all the teams came together to test their skills as they battled to be the last surviving robot. This year, Roll-Kraft and the students from Kirtland High School fought the opposition and won third place in the final event.
Roll-Kraft holds a prominent position in designing and manufacturing roll tooling for the tube and pipe and roll forming industry. The company is very focused on promoting careers in manufacturing and is involved in many events throughout the year with this goal. It is a top priority. Manufacturing is an important option for students to consider. It brings stability to the community and provides a road to a successful future for many.
Roll-Kraft has its headquarters in Mentor, Ohio, and maintains other facilities in Frankfort, Illinois (Roll-Kraft Northern), and Ontario Canada (Roll-Kraft Ltd.). The company phone number is (888) 953-9400 or (440) 205-3100, and the fax number is (440) 205-3110. Please also visit the web site at roll-kraft.com. For easy and immediate contact with Roll-Kraft that transcends time zones and working hours, the website features Dr. Resolve. Simply complete and submit an on-line form and Roll-Kraft will respond.