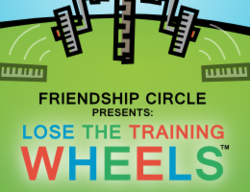 Giving the freedom of bike riding to children with special needs
West Bloomfield, Michigan (PRWEB) May 24, 2012
When a child rides a bicycle without training wheels for the first time, it is one of the most exciting and memorable experiences in their young life. For many children with special needs they may never get the chance to ride a bike.
Friendship Circle of Michigan is partnering with Lose The Training Wheels, an organization that travels around the country running bike clinics for children with special needs.
Lose The Training Wheels takes a seemingly impossible task and teaches children and young adults to ride a bike in just one week. Within days of learning to ride, many children begin exhibiting independent behaviors at home. This achievement, in turn, creates a gateway of opportunity, improves self-esteem, and helps gain assurance in many other aspects of their lives.
The Lose The Training Wheels bike camp uses adapted equipment, trained professionals, and volunteers. With 75 minutes of instruction over five days, approximately 85 percent of campers learn to ride a conventional bicycle independently.
To be eligible to enroll, participants must be least eight years old.
Participants must have a disability but be able to walk without an assistive device such as a walker or cane.
Participants must have a minimum inseam measurement of 20 inches from the floor wearing a sneaker.
Lose the Training Wheels bike camp will be taking place July 22- July 27, 2012 at Walled Lake Western High School. For more information visit http://www.friendshipcircle.org/wheels
This program has been sponsored in part by the Autism Society- Oakland County Chapter.
About Friendship Circle:
Friendship Circle has been providing assistance and support for more than 3,000 families of children with special needs since 1994. Most of the Friendship Circle's work takes place at the Ferber Kaufman Life Town building, a 28,000 square foot state of the art facility in West Bloomfield that serves as a therapy/activity center and social meeting place for its network of more than 1,000 volunteers, professional staff and supporters. For more information on Friendship Circle, please visit http://www.FriendshipCircle.org