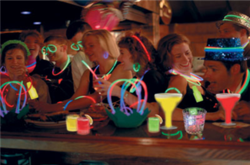 Chicago, IL (PRWEB) May 24, 2012
Summertime is the perfect time for parties for many reasons: nice weather, patriotic holidays, and vacations are all great reasons to have a gathering. The advantage of a summer party is not only can outdoor space be utilized for guests, but long hours of daylight and warm evenings make it more convenient to have a longer event. Guests won't rush off when the sun goes down. Summer will be jam packed with all sorts of social gatherings, so why not have one that stands out from the crowd? Dress up any block party or fireworks show with glow products; even add some to a wedding. The fun and festive possibilities are endless with glow sticks, glow necklaces, and more. Windy City Novelties offers a vast range of not only traditional glow products, but also new LED products that can be used to light up the night.
Glow products add a certain something, a magical touch to your party, whether it's in the backyard after sun down or at the roller rink. They also go hand in hand with fireworks gatherings, with kids loving to wear them as they run about before the show starts. There are tons of different options to inspire the imagination but listed below are a few ideas to help with the party planning:
BACKYARD BARBEQUE—having the family together for good food and good company is a classic way to celebrate weekend evenings and the 4th of July. But after the coals have cooled off and the apple pie has been cut, there is still plenty left to do. While adults are relaxing, pass out some glow necklaces and bracelets in varied colors to the kids as they run around in the yard chasing fireflies.
NIGHTTIME POOL PARTY—a pool party during the day is always a great way to cool off from the heat, but a nighttime pool party is twice as fun. With a Glowing Beach ball you can have a volleyball game, or dive for glow sticks at the bottom of the pool. Have a contest to see who can gather the most in a short span of time.
GLOW GOLF—there's already indoor black light golf locations, but to enjoy the warm nighttime air, an outdoor golf outing is the way to go. There are Glow Golf kits that include light up golf balls, glowing golf tees, and hole markers to let people know where they are going on the green. Don't forget about the 19th hole barware by serving beverages in glowing 12oz glasses to continue the theme of the night.
GLOW PARTY AT THE SKATE RINK—unfortunately the weather doesn't always cooperate and sometimes there is a need to have a night indoors. Take the kids to the skate rink and deck them out in Glow bunny ears and eyeglasses for goofy fun. Outfit members of the party with glow necklaces and bracelets to make it easier to recognize the guests. Party packs are a great way to accessorize several guests at once.
ABOUT WINDY CITY NOVELTIES
Windy City Novelties, a party supply company founded in 1983, is known for their great selection and competitively priced items. They have an A+ rating from the Better Business Bureau and are also a NexTag 5 star Seller. From their website, windycitynovelties.com, they offer fast and friendly shipping along with great customer service. From glow products to party decorations in a variety of themes, and even a vast selection of costumes at the best prices, Windy City has over 15,000 products and adds more each week.